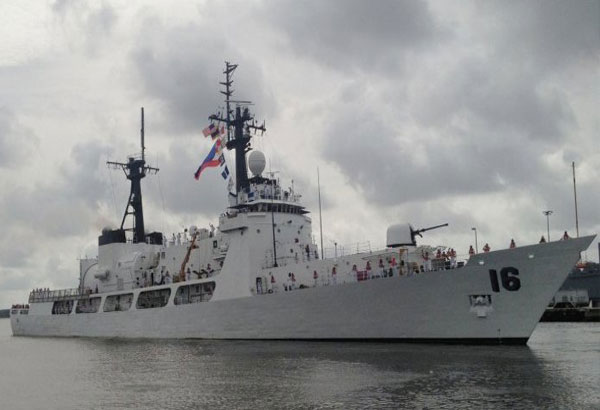 The BRP Ramon Alcaraz, one of the Philippine Navy's newer ships. The contract with Hyundai Heavy Industries for the supply of two frigates to the Philippine Navy will continue despite the firm's questionable record, Defense Secretary Delfin Lorenzana said. File
Navy frigate deal to push through despite questions about supplier
MANILA, Philippines — Defense Secretary Delfin Lorenzana on Monday admitted that they were not aware that the South Korean firm contracted by the Philippines to deliver two frigates for the Navy was banned by Seoul from participating in state projects for two years.
Lorenzana however said that Hyundai Heavy Industries would remain the Navy's ship supplier despite its bad record as the government's contract with it had already been perfected.
The Defense chief said that upon assumption of office, DND officials simply presumed that the previous Bids and Awards Committee conducted due diligence in the P15.7-billion contract that would see the delivery of two frigates to the Philippine Navy aimed at modernizing its aging fleet.
"We did not know about this blacklisting. We just presumed that the previous BAC did their due diligence, and we are just continuing their job," Lorenzana told Sen. Panfilo "Ping" Lacson who asked if the government would push through with the deal had they known about Hyundai's record in South Korea.
"We just have a presumption of regularity in the process because we're just continuing what the previous BAC has done. They have been doing it in the past two years," the Defense chief added.
The Senate panel on national security and defense is conducting an inquiry into allegations that the acquisition of two Navy frigates was attended by irregularity.
Christopher "Bong" Go, a special aide to President Rodrigo Duterte, was accused of dipping his hand in the deal, specifically of favoring South Korea's Hanwha to be the supplier of the combat management system of the frigates to be delivered by Hyundai.
Vice Adm. Ronald Joseph Mercado, former Navy chief, and the Philippine Navy preferred Thales Tacticos of Netherlands to be the CMS supplier, putting them at odds with the position of Lorenzana, who sacked him for allegedly hampering the implementation of the contract.
Mercado denied disobeying any lawful order from his superiors.
According to Rep. Gary Alejano (Magdalo), Hyundai was banned by the South Korean government from participating in state-led bids after it got involved in a bribery controversy in 2013 and its executives were found guilty of bribing an official of the Korea Hydro and Nuclear Power Company in exchange for the deal to become the supplier of reactors to be exported to the United Arab Emirates.
Hyundai tried to nullify the restriction but lost in 2015. South Korea's Supreme Court rendered a final decision in December 2017 that imposed that two-year ban.
Despite Hyundai's spotty record, Lorenzana said that the deal with push through as it was already a perfected contract. He added that they expect Hyundai to deliver that first of the two frigates in 2020.
Related video: