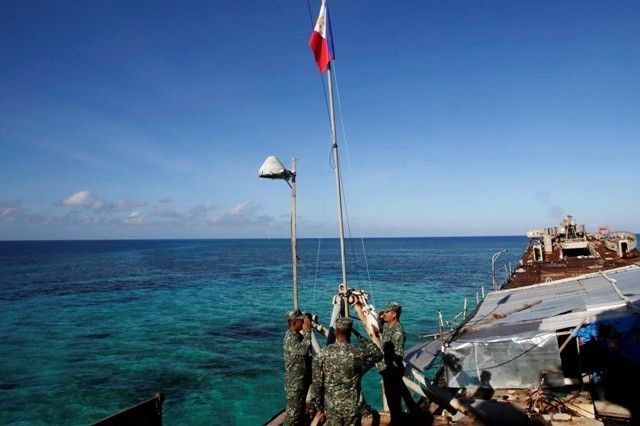 Philippine Marines on the BRP Sierra Madre, a grounded Navy ship that serves as an outpost in the West Philippine Sea.
AP/Bullit Marquez, File photo
US think tank exec: Defending Philippine rights in South China Sea is for Philippine interest
MANILA, Philippines — An official of a US think tank monitoring the developments in the hotly disputed South China Sea has underscored that defending the Philippines' rightful claim over the contested waters is for the country's interest.
That was after Foreign Affairs Secretary Alan Peter Cayetano said that while Manila appreciates the Washington-based think tank's help in tracking China's aggressive island-building activities, the research institute's actions also advance "American interests."
RELATED: Palace defends China's 'good faith' in South China Sea
"I remember when defending Philippine rights under international law was a Philippine interest too," Greg Poling, director of the Asia Maritime Transparency Initiative (AMTI) of Washington's Center for Strategic and International Studies, said in a Twitter post.
The Philippines claims parts of the South China Sea within its exclusive economic zone and calls it the West Philippine Sea.
Ties between the Philippines and China have significantly improved under President Rodrigo Duterte, who has set aside a ruling from a UN-backed tribunal that invalidated Beijing's maritime ambitions.
Meanwhile, Washington, Manila's traditional treaty ally, has been infuriating Beijing for repeatedly sending warships close to Chinese-controlled reefs in recent years.
In its December 14 report, AMTI identified all permanent facilities that can be used for military purposes that China completed or began work since the start of 2017.
AMTI added that Beijing "remains committed" to advancing the next phase of its activities in the sea, including construction of infrastructure necessary for fully-functioning air and naval bases on larger outposts.
The Philippine Daily Inquirer early this month also published a report showing aerial photos of Chinese-occupied reefs that suggest China is prepared for new escalations in the contested waterway.
In a fresh report released Friday, AMTI said that while aerial shots published by the Inquirer do not reveal any new capabilities on the artificial islands, the images do offer "an important new perspective."
"These images communicate the relative sizes, and especially heights, of individual facilities more effectively than satellite imagery, though without the same ability to show the bases in their entirety," AMTI said.
"Comparing the aerial photos with AMTI's most recently-available satellite imagery offers the best of both worlds, placing the former in context and lending the latter extra weight," it added.
RELATED: China seen to push states to withdraw South China Sea claims