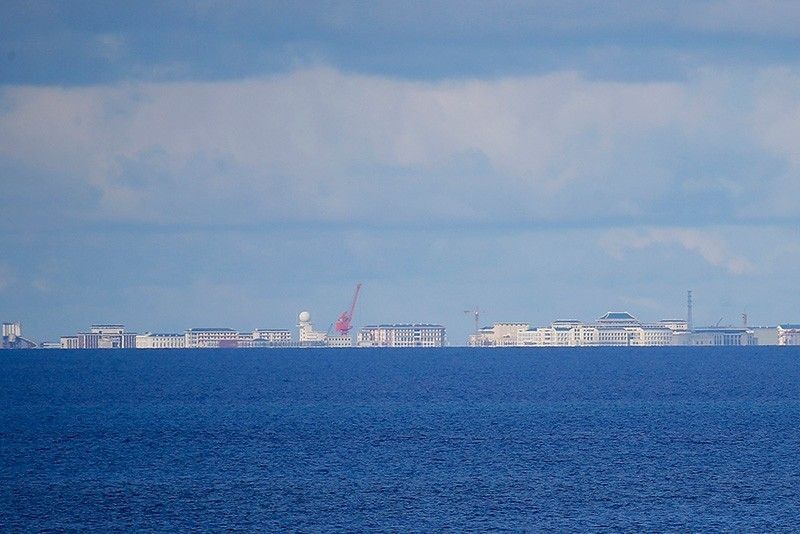 China's construction activities on Subi Reef is seen from Philippine-controled Pagasa Island in the South China Sea off Palawan province on April 21, 2017. AP, File photo
AP, File photo
Philippines 'aggressively' pursuing joint exploration in South China Sea
MANILA, Philippines — The Philippine government is consulting international experts in its bid to pursue joint exploration with China in disputed areas in the South China Sea, the Philippines' top diplomat said Friday.
The possibility of joint exploration was among the agenda in the recently concluded second meeting of the bilateral consultation mechanism on the South China Sea in Manila.
Pursuing joint exploration in disputed areas would entail talks with other claimant countries, DFA Secretary Alan Peter Cayetano said in a press conference.
"I can tell you that we're pursuing it aggressively because we need it," Cayetano said.
Cayetano revealed that the Philippine government is currently discussing joint exploration first to ensure that it is in accordance with the 1987 Constitution and the United Nations Convention on the Law of the Sea.
RELATED: 'Joint venture with China on South China Sea violates Charter' l China seen to push states to withdraw South China Sea claims
The DFA secretary said that the Philippines cannot explore undisputed areas alone due to financial concerns.
"Unless we can do it by ourselves without starting a war or worse without a massacre, it will be prudent to do it in partnership without violating our sovereignty," he said.
International legal experts who have handled contracts on legal framework of disputed areas and who have dealt with sovereign rights will be consulted regarding a possible joint exploration with China.
The Chinese government, on the other hand, will be forming their own technical working group while consulting with the DFA, the Department of National Defense and the security cluster.
"We will find a legal framework if it is possible under the Constitution that will allow joint exploration. Once there's results, we will report it to the Filipino public," Cayetano said.
"If they find deposits commercially viable to help development, then we will have to file a framework," he added.
Cayetano noted that the Philippines and China are only discussing joint exploration first and not joint development.
"We're discussing exploration muna cause what's the use of a debate whether or not allowed sa Constitution ang joint development kung hindi natin alam ano ang nandyan na pwedeng i-harvest without damaging the environment," he said.
Experts had warned that a joint development in the South China Sea between the Philippines and China does not guarantee better relations and that the failure of such may spark another conflict.
RELATED: 'South China Sea claimants will suffer if harsh to China'
"The feasibility of joint development is directly correlated with the state of relations between the parties," UP Law professor Jay Batongbacal said in a forum last year.
In July 2016, the United Nations-backed arbitral tribunal ruled in favor of the Philippines, invalidating China's historic nine-dash line claim over the South China Sea.
The Philippines, however, pushed aside the landmark ruling as President Rodrigo Duterte is pursuing "friendly" relations with China.
RELATED VIDEO: