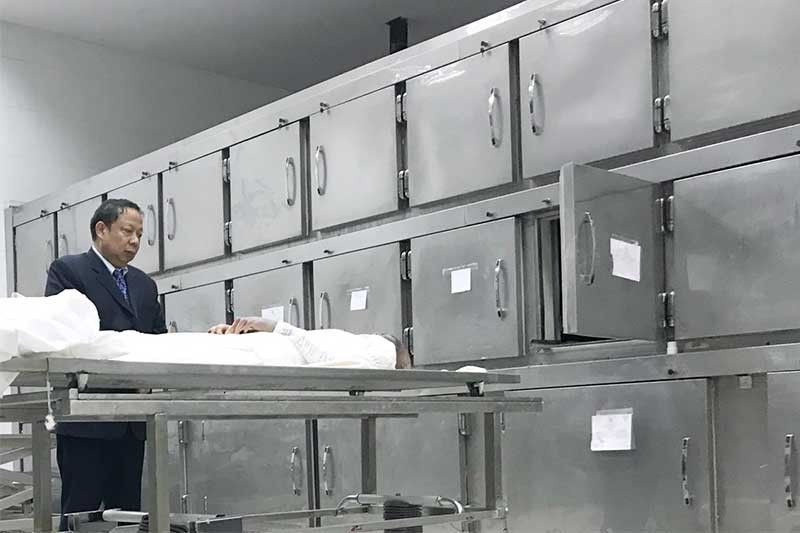 Philippine Ambassador to Kuwait Renato Villa visits the remains of slain Filipina domestic worker Joanna Demafelis at Al-Sabah Hospital in Kuwait.
Philippine Embassy in Kuwait
Remains of slain OFW in Kuwait to be flown to Manila
MANILA, Philippines — The remains of a slain Filipina domestic worker in Kuwait will arrive in Manila on Friday, the Department of Foreign Affairs said.
On Wednesday, Philippine Ambassador to Kuwait Renato Villa visited the remains of Filipina worker Joanna Demafelis at the Al-Sabah Hospital as part of the preparations for the repatriation.
Villa said he had already discussed with the officials of Kuwaiti Ministry of Interior regarding the murder of the Filipina worker.
The body of Demafelis was found in a freezer in an uninhabited apartment in Kuwait. Authorities suspect that she was tortured to death by her employers, a Lebanese man and a Syrian woman.
The victim could have been in the freezer since November 2016 when her employers left for Lebanon.
Villa said that the Kuwaiti government assured him that they are doing their best to locate and arrest the suspects, who have since fled the country.
"The whole Kuwait was shocked by this crime and they are deeply enraged by this incident. We hope that they will catch the Lebanese man and his Syrian wife," Villa said.
Labor Secretary Silvestre Bello III earlier revealed that the International Police had joined the manhunt to arrest the couple responsible for the killing of Demafelis.
Bello said that the suspects may have put the Filipina worker in the freezer to conceal what they did.
"It's good that her employers are not Kuwaitis because, otherwise, we might push thru with the banning of deployment (of all Filipino workers to Kuwait). The President really takes it hard that many Filipinos are being killed or committing suicide there," Bello said