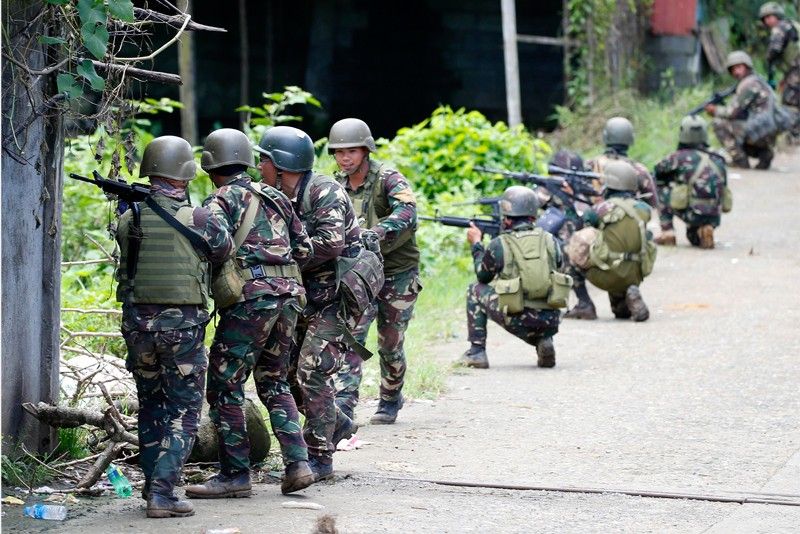 After a day-long frustrating hunt for communist insurgents, two soldiers on patrol decided to get something positive out of their mission. AP/Bullit Marquez
Love in the time of counterinsurgency
John Unson
(The Philippine Star) - February 15, 2018 - 12:01am
SULTAN KUDARAT, Philippines — It was love forged in the battlefield.
After a day-long frustrating hunt for communist insurgents, two soldiers on patrol decided to get something positive out of their mission.
Cpl. Denemar Albani took the initiative of popping the question to Pvt. Christine Porcadilla, an Army medic.
In the middle of the steaming jungle somewhere in Sultan Kudarat, four of their colleagues unslung their rifles and gamely took part in the drama by holding up placards that read, "Will You Marry Me" while Albani kneeled to propose to Porcadilla.
The answer, of course, was yes.
"All were so tired and drenched in sweat, resting on a grassy spot when out of the blue Albani approached Porcadilla and proposed to her on bended knees," according to Lt. Col. Harold Cabunoc of the Army's 33rd Infantry Battalion.
Cabunoc said he was surprised by the turn of events when two of his subordinates returned as a couple after a mission to hunt down insurgents.
"No one from among us ever thought such a scenario would ever happen right in an upland barangay in Bagumbayan," Cabunoc said.