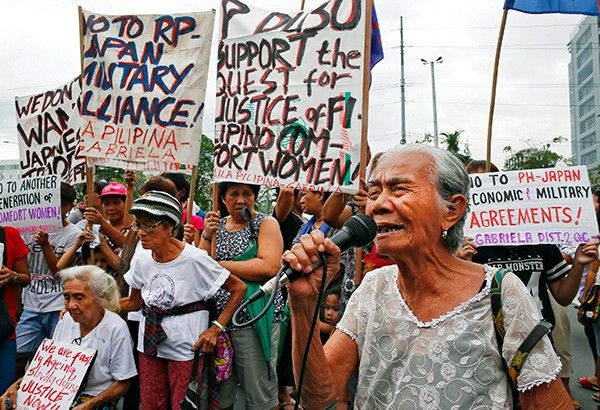 Narcisa Claveria leads 'comfort women' in a rally in front of the Japanese embassy in Pasay City in January 2017. AP, file
Lila Pilipina: 'Shoot the vagina' remark a throwback to World War II abuse
(philstar.com) - February 14, 2018 - 8:10pm
MANILA, Philippines – An official of a group for comfort women on Wednesday said President Rodrigo Duterte's recent remark jokingly encouraging government troops to shoot female New People's Army guerrillas in the vagina recalls the violence against women during the Japanese Occupation.
Rechilda Extremadura, executive director of Lila Pilipina, said Duterte's statements angered their group because Japanese soldiers during World War II would use their bayonets on captive Filipinas.
"Such atrocities, much like the military sexual slavery during World War II are tools of war that aimed to disempower women. It is outrageous that in this day and age, the president himself would be mouthing such barbaric violation to women," Extremadura said.
Duterte last February 7 wondered aloud why women join the NPA, the armed component of the Communist Party of the Philippines. He then, as a joke, ordered the soldiers to shoot their vaginas, implying women would be useless without them.
According to a transcript of the speech posted by the Presidential Communications Operations Office, the audience of former NPA rebels laughed at the remark.
Last Sunday, Gabriela Women's Party also slammed President Rodrigo Duterte for his anti-women remark. Women from various sectors joined protests to denounce Duterte's "macho-fascist" leadership at the Gabriela-led "One Billion Rising" event on Wednesday.
Extremadura said Lila Pilipina could not attend the event but that their issue "is always part of the dance protest."
"The historical violence done against the comfort women must always be remembered in order for us to be always on our guard against such crime to happen to another generation," Extremadura said. – Rosette Adel