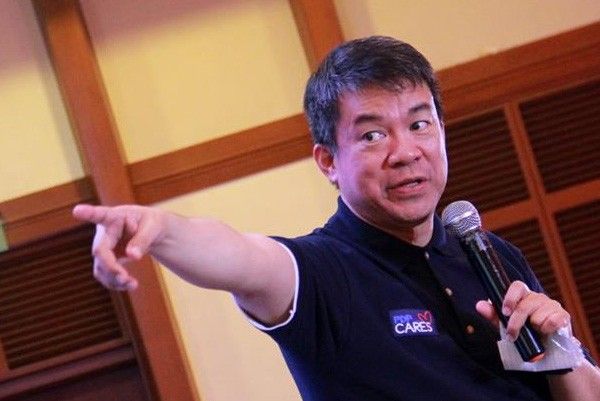 In this Aug. 14, 2017 photo, Senate President Koko Pimentel speaks at the launch of a project of leading political party PDP-Laban.
Office of the Senate President
Pimentel points out US name of Benham Rise: Were we afraid?
MANILA, Philippines — China's naming of five features in Benham or Philippine Rise should be no cause for alarm, Senate President Aquilino Pimentel III said Wednesday.
Pimentel, in a chance interview with reporters, noted that the undersea region off the coast of Aurora was originally named after American admiral Andrew Benham who discovered the continental shelf.
"When Benham Rise was named 'Benham,' were we afraid? That's an American name, (could it be an) American claim? None, so what's the point?" Pimentel said.
The underwater plateau was first surveyed in 1933 by American geologists, but It was only in 2009 when the Philippines claimed it before the United Nations Commission on the Limits of the Continental Shelf
In 2012, the UN commission approved the submission of the Philippines to include Benham Rise as part of its continental shelf. This means that the Philippines has sovereign rights, but not sovereignty over Benham Rise.
Paragraph 1, Article 77 of the UN Convention on the Law of the Sea states that a state has sovereign rights over its continental shelf for the purpose of "exploring it and exploiting its natural resources."
The senate president thinks no country has exclusive power or right to name features. He added that Beijing can claim any feature as long as they have legal basis.
"When it comes to Benham Rise, ultimately they will claim and come up with something. Maybe we should not bother," Pimentel said.
Pimentel made this statement following a Malacañang announcement that the Philippine government will not recognize Chinese names given to five features in Benham Rise.
The Philippine Embassy in China has raised this concern before the Chinese government.
"They are likewise considering a recommendation to officially notify the Chair of the International Hydrographic Organization-Intergovernmental Oceanographic Commission General Bathymetric Chart of the Oceans Sub-Committee on Undersea Feature Names," the statement read.
Praising the protest
Sen. Bam Aquino, meanwhile, lauded the government for countering China's move to name features in the Philippine territory.
"Benham Rise is clearly Philippine territory and its features are not for China to name," Aquino said in a statement.
The senator stressed that it is imperative for the Philippine government to protect the country's territory against foreign interest.
Sen. Panfilo Lacson, on the other hand, said that China already named features in Benham Rise — Jinghao and Tianbao Seamounts, Haidonquing Seamount, Cuiqiao Hill and Jujiu Seamounts.
"It's probably a matter of time before we see Chinese structures on more artificial islands. Damn us! Are we this helpless?" Lacson said on Twitter. — Video from Senate PRIB