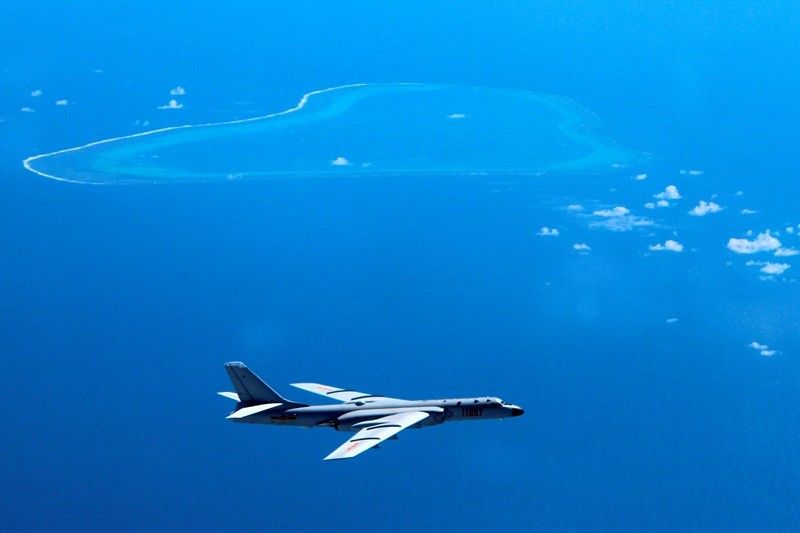 In this undated file photo released by Xinhua News Agency, a Chinese H-6K bomber patrols the islands and reefs in the South China Sea. The Philippines and China said Tuesday that they have agreed to "exercise self-restraint in the conduct of activities in the South China Sea that would complicate or escalate disputes and affect peace and stability." Liu Rui/Xinhua via AP, File
Philippines, China agree on self-restraint amid sea militarization
MANILA, Philippines — The Philippines and China on Tuesday agreed to exercise "self-restraint" in the conduct of activities in the West Philippine Sea that would escalate the dispute and affect peace and stability in the region.
This, amid reports that Beijing has continued its militarization of reclaimed features in the disputed waters.
Both sides also reiterated their commitment to the full and effective implementation of the 2002 Declaration on the Conduct of Parties in the South China Sea. They also agreed to continue discussions on confidence-building measures to increase mutual trust and confidence between countries.
"Both sides agreed to…exercise self-restraint in the conduct of activities in the South China Sea that would complicate or escalate disputes and affect peace and stability," the joint statement said.
They also announced that negotiations on a Code of Conduct in the South China Sea would begin next month, 16 years after the 2002 declaration was signed and after Beijing has transformed several features in the region into islands capable of hosting military hardware and equipment.
Militarization of man-made islands
A newspaper report showed last week that Chinese militarization of features in part of the South China Sea that Manila calls and claims the West Philippine Sea was nearly complete.
The Palace initially tried to dismiss the story as "not news anymore" and falsely claimed that the installation of such features happened before the administration of President Rodrigo Duterte.
However, a December report by an international think tank showed that China continued with its construction of infrastructure for fully functioning air and naval bases on its larger outposts.
Asia Maritime Transparency Initiative said that some of the structures built since the start of 2017, well into Duterte's first year in office, range from underground storage areas and administrative buildings to large radar and sensor arrays.
On Monday, presidential spokesperson Harry Roque said that the Philippines had been protesting these military activities, just after saying that such actions were not a breach of China's good faith.
The Philippines and China said that they discussed ways to manage and prevent incidents at sea, promote dialogue and cooperation on maritime issues and enhance mutual trust and confidence.
"Both sides had a positive, fruitful and productive meeting," they said.
They also reaffirmed that contentious issues were not the "sum total" of their bilateral relationship.
'Friendly consultations, negotiations'
They also stressed the importance of maintaining and promoting peace and stability, freedom of navigation in and overflight in the South China Sea, freedom of international commerce and other peaceful uses of the sea, through which around $5 trillion worth of trade annually passes.
The two sides also committed to addressing territorial and jurisdictional disputes by peaceful means and without resorting to threat or use of force through "friendly consultations and negotiations" by states concerned, an apparent dig at the US which has treated the issue as important in keeping freedom of navigation in the seas.
There was also an exchange on strengthening cooperation in marine environmental protection, fisheries, marine scientific research and oil and gas, the two said.
"There were intensive discussions on mutually beneficial joint initiatives and consensus on the convening of technical working groups in…fisheries, oil and gas, marine scientific research and marine environmental protection and political security," their statement said.
Aside from the Philippines and China, Vietnam, Taiwan, Malaysia and Brunei have overlapping claims to the area believed to hold vast reserves of gas and oil.