'War on drugs will not stop'
February 13, 2018 | 12:02am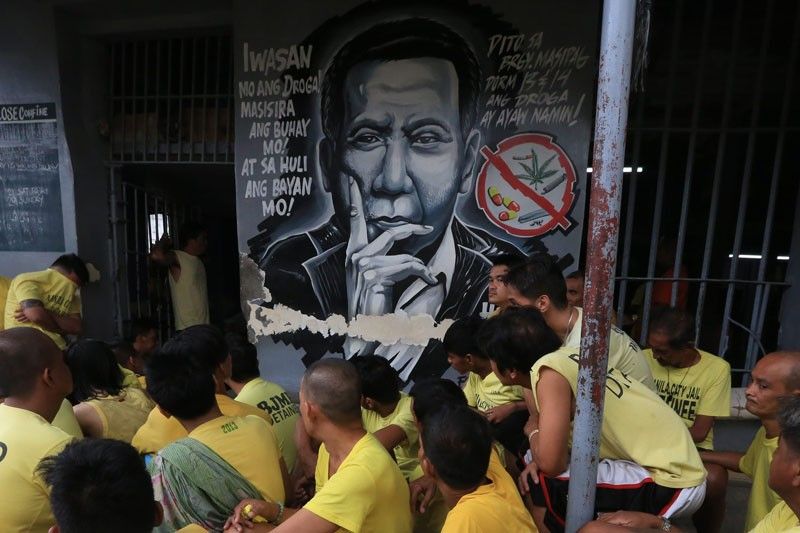 Rody to ICC: So jail me
MANILA, Philippines — Despite the possibility of being investigated or prosecuted for extrajudicial killings by the International Criminal Court (ICC), President Duterte declared yesterday there will be no letup in his vicious war on drugs.
"The war on drugs will not stop and will last until the day I step down. If I go to prison, I will go to prison," the President said in remarks at the launching of the Malasakit Programs for the Visayas at the Vicente Sotto Medical Center in Cebu City.
Addressing the ICC, Duterte said, "If you want to execute me, look for a country that allows the execution of prisoners by firing squad."
Last week, the ICC announced that it would conduct a "preliminary examination" of reports of extrajudicial killings in the Duterte administration's anti-drug campaign.
The action stemmed from a communication filed last year by Jude Sabio, lawyer of Edgar Matobato, a self-confessed former member of a death squad supposedly organized by Duterte.
Sabio tagged Duterte in the death of 1,400 people in Davao City, where the President served as mayor for more than 23 years.
He also claimed that Duterte's anti-drug crackdown has claimed the lives of about 7,000 people nationwide.
Malacañang has belittled the development, saying the allegation that the Duterte administration had committed a crime against humanity lacked merit. Officials also maintained that the campaign against drugs is a legitimate police operation.
Duterte has said he is ready to be executed by the ICC and insisted that his drug war is meant to protect the Filipino people.
He also demanded that ICC prosecutor Fatous Bensouda explain why she is conducting an examination of the campaign when there were other atrocities in the region.
The President maintained that there is nothing wrong with threatening criminals. He also accused the United States and Europe of trying to impose their values on other countries.
"These whites are crazy. The problem here is Europe, America they want to impose their values on us when as a matter of fact, they are not facing any trouble at all," he said.
"Italy, France, America, Britain, they built their empires, they rose to the industrialization stage much earlier because they were using the Arab oil and when it was time, they cut the Arab nation into territories, by tribes. Now, there is chaos," he added.
Duterte also explained that at least three people have inspired him in his resolve to die for his country and one of them was Jose Abad Santos, who chose honor and death rather than a life of shame.
"Abad Santos when asked by the Japanese to salute – not everybody is given a chance for his country," the President said.
Abad Santos was executed by the Japanese during their occupation of the Philippines in World War II when he refused to be part of the puppet government.
Duterte likewise said he purposely visited Cebu City yesterday to confer with authorities, citing reports of rising drug use and trade in the city.
As this developed, Malacañang shrugged off Sabio's claim that there is now a threat to his life because of the communication he filed before the ICC.
"We don't put much importance to the complaint. We have no ill will against him. We know it will not proceed beyond preliminary examination. Let's make sure that if there's a threat and he should report it to the police, if there's a threat go file a writ of amparo," presidential spokesman Harry Roque said.
Roque insisted that the administration is not threatened by Sabio's complaint.
Related video: