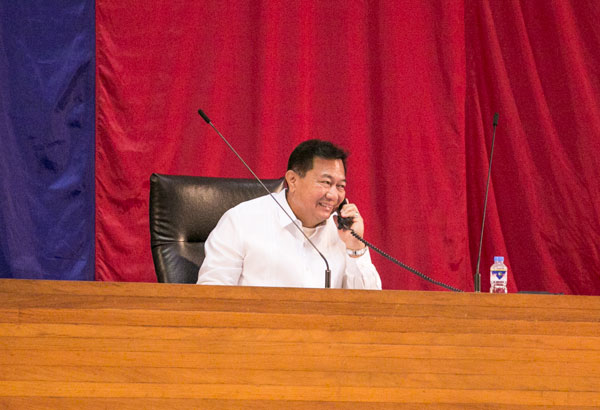 House Speaker Pantaleon Alvarez hours ahead of President Rodrigo Duterte's State of the Union Address on Monday, July 24, 2017. Philstar.com/AJ Bolando, file
House to ignore 'unconstitutional' dismissal order vs Cebu Rep. Garcia
MANILA, Philippines — The House of Representatives will not implement the order of the Office of Ombudsman dismissing Rep. Gwendolyn Garcia (Cebu, 3rd District) from public service, Speaker Pantaleon Alvarez said on Monday.
Alvarez (Davao del Norte, 1st District) reasoned that there was nothing in the 1987 Constitution that allowed him to implement the order and stressed that the power to remove or discipline members of the House was not within the prerogative of the Ombudsman.
"Because there is nothing in the Constitution that allows me to do that. In fact, it is not within the power of the Ombudsman to discipline, much more to remove any member of the House of Representatives," Alvarez said in a television interview when asked about this reason for refusing to implement the directive.
The view of Alvarez seems to contradict what Article XI, Section 13(3) of the 1987 Constitution states which says that the Ombudsman shall have the power to "direct the officer concerned to take appropriate action against a public official or employee at fault, and recommend his removal, suspension, demotion, fine, censure, or prosecution, and ensure compliance therewith."
The speaker however insisted that only the House has the power to discipline and remove its members.
The Ombudsman ordered the dismissal of Garcia over the controversial purchase of the Balili property.
According to Ombudsman Conchita Carpio-Morales, Garcia committed grave misconduct when she purchased the 249,246-square meter property in Naga, Cebu worth more than P98.9 million without authority from Cebu's province council.
Morales also ordered Garcia's perpetual disqualification from public office, the cancellation of her civil service eligibility and the forfeiture of her retirement benefits.
Garcia, who is one of the most active House members in the impeachment case of Chief Justice Maria Lourdes Sereno, claimed that her participation in the proceedings could be the reason for the dismissal order.
Her statement was in contrast to her explanation of the proceedings against Sereno, which she described as "democracy in action."
She also dismissed insinuations that Sereno's case might be related to a personal grudge of Alvarez against the chief justice in a case against Philippine International Air Terminals Co. Inc.
"If we take up a particular issue, we must focus on that issue," Garcia was quoted as saying then.
The speaker also dismissed Garcia's claim and said that he did not care about this, adding that he was only after the legality of the order.
Alvarez said that Garcia's dismissal could not be implemented because her questionable act was done during her time as governor of Cebu.
"The decision was late. The order was late. It should have been released during her time as governor," he said in Filipino.