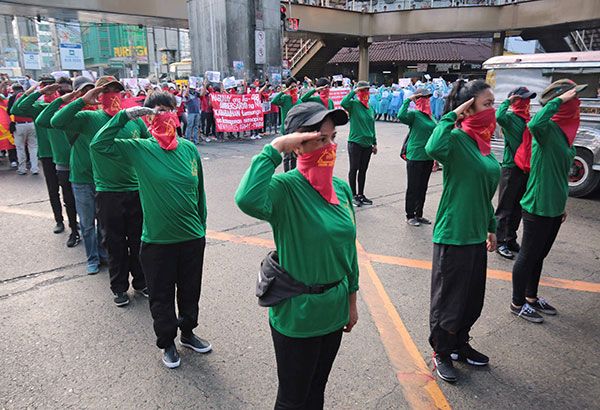 Gabriela Women's Party, over the weekend, was also incensed by the chief executive's "vile remarks" toward women. The STAR/Michael Varcas, file
HRW: Duterte's 'shoot them in the vagina' remark encourages sexual violence
MANILA, Philippines — Human Rights Watch on Monday denounced President Rodrigo Duterte's "joke" order for soldiers to shoot female New People's Army rebels in the vagina.
HRW said Duterte's remark was the latest "in a series of misogynist, derogatory and demeaning statements he has made about women."
The human rights watchdog said the comment "encourages state forces to commit sexual violence during armed conflict, which is a violation of international humanitarian law."
According to a Presidential Communications Operations Office transcription and translation of Duterte's comments in Bisaya, the president said: "Tell the soldiers. 'There's a new order coming from mayor. We won't kill you. We will just shoot your ---- so that... If there are no ---- it would be useless."
Gabriela Women's Party, over the weekend, was also incensed by the chief executive's "vile remarks" toward women.
"Duterte's latest nasty remark openly encourages violence against women, contributes to the impunity on such, and further presented himself as the epitome of misogyny and fascism terribly rolled in one," Rep. Emmi de Jesus (Gabriela party-list) said in a release.
Speaking to more than 200 former rebels in Malacañang on February 7, Duterte asked why women join the NPA movement "even if you have your family."
The president, who has been criticized for casually talking about rape, then ordered government troops to shoot their vagina, saying it would be useless.
Individuals and groups both at home and abroad have previously blasted Duterte for his remarks which they said "normalized" and "encouraged" objectification, rape and other forms of violence toward women.
Duterte's officials and supporters usually dismiss such remarks as instances of "sarcasm" or part of the president's supposed humor.
In an online interview last week, presidential spokesman Harry Roque said women should just laugh off Duterte's comments about them and their bodies.
"You know, sometimes, these feminists are really a bit OA (over acting). I mean, that's funny. Come on. Just laugh," he said.