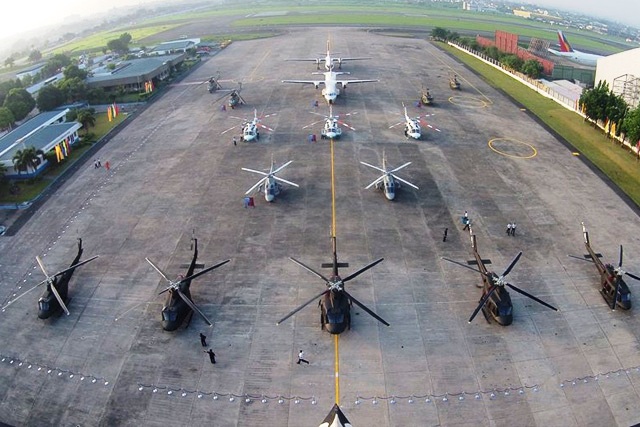 Presidential Spokesperson Harry Roque asserted that the Bell helicopters that the Philippine government will purchase will be used for humanitarian assistance and disaster response. PAF/Released, File photo
Roque: We can look for other sellers of military choppers
MANILA, Philippines — The Philippine government can consider other sellers of military choppers, if the Canadian government refuse to push through with the deal, Presidential Spokesperson Harry Roque said on Thursday.
Following the Canadian government's announcement that it is currently reviewing its sale to the Philippine government of 16 military choppers, Roque said: "If they don't want to sell, we may consider the prospect of procuring them from other sources."
Roque asserted that the government has always been clear on why it is purchasing Bell helicopters.
"They will be used to transport personnel, supplies, humanitarian missions, ferrying of wounded, injured soldiers and other forms of humanitarian assistance and disaster response," Roque said.
Asked to expound on a military official's statement that the choppers will be used for "internal security operations," Roque said they can always considering purchasing from other sellers.
According to a report, the Philippines signed a deal with Canada on February 7 for the sale of 16 combat utility choppers worth $233.36 million or roughly P12 billion pesos.
Last year, Duterte earlier promised that he would purchase 23 armed helicopters to help them fight terrorists and other enemies of the state.
READ: 'Partial' delivery of attack helicopters for DND expected before yearend — Diokno
Trudeau: Canadian government abides by rules on selling equipment
Canadian Prime Minister Justin Trudeau, during a talk at the University of Chicago Institute of Politics, said that the Canadian government is "in the process of looking" closer into the deal.
Trudeau was asked American political analyst David Axelrod if he has any "concerns" on selling the Philippine government military choppers that might be used against Filipinos.
Trudeau, who raised human rights concerns to President Rodrigo Duterte last year, replied: "Absolutely."
"We have very clear rules around who and what we can sell either arms of potential military vehicles like helicopters and controls—on what they intend to be used for and checks in how they are used," Trudeau said.
READ: Trudeau: I discussed human rights, EJKs in meeting with Duterte
He added that the Canadian government is ensuring that any deal entered into by the their government are "abiding by the rules and expectations that are not just values, but actual rules that the Canadian government has to follow."
During Trudeau's official visit in the Philippines last year for the 31st Association of South East Nations, he said that he "impressed upon" Duterte the need to respect the rule of law to combat illegal drugs.
RELATED VIDEO: