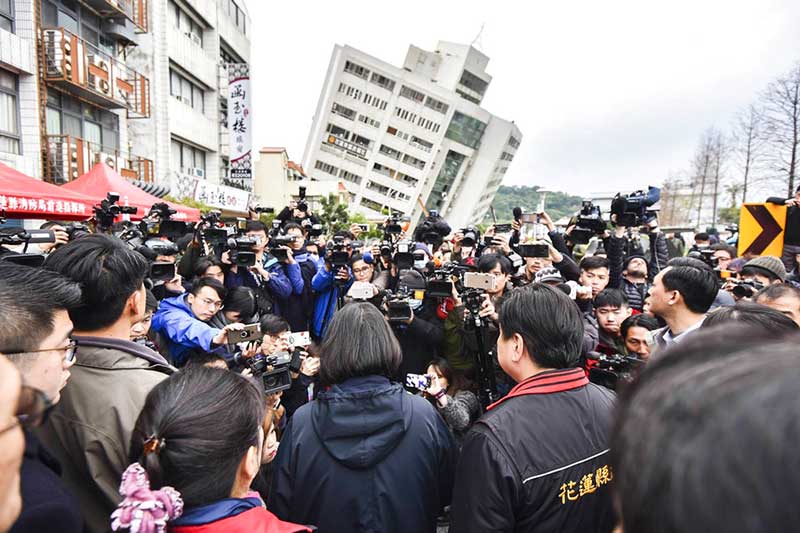 In this photo released by the Taiwan Presidential Office, Taiwan's President Tsai Ing-wen, center back-facing, is briefed at the site of a collapsed building from an earthquake, Wednesday, Feb. 7, 2018, in Hualien, southeastern Taiwan. Rescuers continue to search for dozens of unaccounted people for in several buildings damaged by a strong earthquake near the island's eastern coast. Taiwan Presidential Office via AP
Filipino missing after Taiwan quake
(philstar.com) - February 7, 2018 - 3:13pm
MANILA, Philippines — A Filipino has been confirmed missing after a 6.4-magnitude earthquake struck Taiwan's eastern coast Tuesday night, the Department of Foreign Affairs said.
"A team from the Manila Economic and Cultural Office - Taipei led by the Labor Attache, Atty. Cesar Chavez is in Hualien to personally check on the condition of Filipinos in the area," the DFA said.
The quake at Taiwan's Hualien county caused at least four buildings to tilt, killing four people.
READ: Deadly earthquake strikes Taiwan; shelters opened
Taiwan's Central News Agency reported that 225 people were injured, two dozen of them critically, while over 140 are missing based on registered occupants.
With aftershocks continuing through the night, residents were being directed to shelters, including a newly built baseball stadium, where beds and hot food were provided.
Speaking from a crisis center in Taipei, Cabinet spokesman Hsu Kuo-yung said rail links appeared to be unaffected and the runway of Hualien airport was intact.
"We're putting a priority on Hualien people being able to return home to check on their loved ones," Hsu said.
Schools and offices in Hualien County were to be closed Wednesday.
The U.S. Geological Survey said the quake struck just before midnight Tuesday about 21 kilometers (13 miles) northeast of Hualien at a relatively shallow depth of about 10.6 kilometers (6.6 miles).
Taiwan has frequent earthquakes due to its position along the "Ring of Fire," the seismic faults encircling the Pacific Ocean where most of the world's earthquakes occur. - Patricia Lourdes Viray with Associated Press