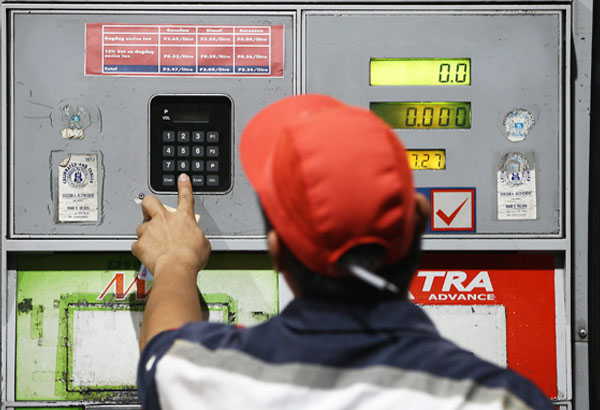 Gasoline prices are increasing by P0.50 per liter, the fourth consecutive week that the prices are raised. Miguel De Guzman
Oil firms hike fuel prices today
MANILA, Philippines — Oil companies are raising pump prices today as major oil producers remain firm on cutting down supply and global demand continues to rise.
Gasoline prices are increasing by P0.50 per liter, the fourth consecutive week that the prices are raised.
Diesel prices are up by P0.35 per liter and kerosene by P0.60 per liter, which is the eighth straight week of higher adjustments for both products.
Pilipinas Shell Petroleum Corp. and SeaOil Philippines Inc. said their price adjustment would start at 6 a.m.
Eastern Petroleum Corp., Phoenix Petroleum Philippine Inc. and PTT Philippines Corp. adjusted gasoline and diesel prices also at 6 a.m. Flying V raised pump prices effective 12:01 a.m.
Petron Corp., Total Philippines Corp. and UniOil Petroleum Philippines Inc. have yet to issue advisories as of press time.
Based on the agency's monitoring, DOE-Oil Industry Management Bureau (OIMB) assistant director Rodela Romero said this week's upward adjustment continues to be driven by international prices.
Global oil prices were mostly lower during last week's trading, but the compliance of the Organization of the Petroleum Exporting Countries (OPEC) and other major oil producers and rising global demand drove the rally in the first month of the year, Reuters reported.
Meanwhile, the DOE will come out with a circular by March, directing oil companies to unbundle their prices and to explain their respective price adjustments, Romero said.
"Under the circular that we will issue, we will require them to explain the reason for such adjustment," she said.
Oil firms who will fail to comply will face administrative actions under Republic Act No. 8479 or the "Downstream Oil Industry Deregulation Act of 1998," the DOE official said.
Earlier, the DOE said the agency would no longer announce figures and reasons to see if oil companies have been implementing price adjustments consistently.