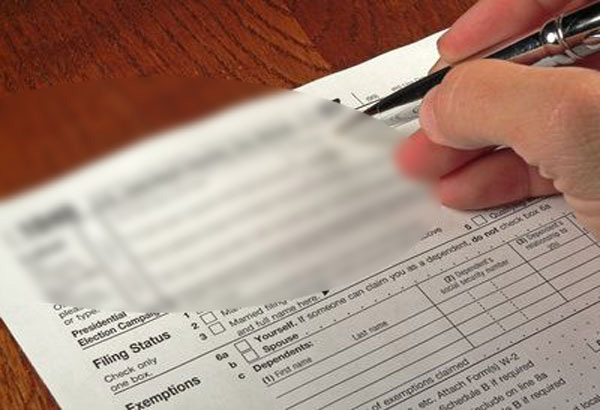 The government official failed to declare the name of his legal wife in his SALN for 2007. File photo
Ex-DENR director convicted of perjury, ethics violation for marriage denial
MANILA, Philippines — A former director of the Department of Environment and Natural Resources was sentenced to imprisonment of one month to one year and slapped with a fine of P5,000 for falsely declaring in his statement of assets, liabilities and net worth that he has no wife.
In a decision promulgated on January 12, the Sandiganbayan Fourth Division found former DENR River Basin Control Office executive director Jacob Meimban Jr. guilty of one count each of perjury under Article 183 of the Revised Penal Code (RPC) and violation of Republic Act 6713 or the Code of Conduct and Ethical Standards for Public Officials and Employees.
The Fourth Division sentenced Meimban to a minimum of one month to a maximum of one year of imprisonment for the perjury case, while he was ordered to pay a fine of P5,000 for his ethics violation case.
Based on the information of the cases filed by the Office of the Ombudsman in February last year, Meimban "unlawfully and feloniously make a willful and deliberate assertion of falsehood" by failing to declare the name of his legal wife in his SALN for 2007.
Instead, Meimban allegedly wrote "N/A" or not applicable in the space provided for the name of his spouse, despite being fully aware that his Petition for Declaration to Nullify Marriage filed in 2004 was still pending in court at that time.
The ombudsman said that with Meimban's deliberate failure to indicate the name of his wife in his SALN, he also got away with the non-disclosure of his wife's financial and business interest.
The name of Meimban's wife was not mentioned in the charge sheet nor in the Fourth Division's ruling.
Under Section 8 of RA 6713, public officials and employee are mandated to disclose in the SALN "their assets, liabilities, net worth and financial and business interests including those of their spouses and of unmarried children under 18 years of age living in their households".
The Fourth Division gave no credence to Meimban's defense that it was a matter of public knowledge that his wife already reverted to using her maiden name in official records and that she already filed her own SALN containing all information on her financial and business interests, thus, he opted to declare in his SALN that he has no spouse.
"While it is true that good faith is a defense in perjury, the same cannot be considered in this case. Meimban, Jr., himself knew that he had merely filed a case for declaration of nullity of marriage, but the same was still pending," the Fourth Division's ruling read.
The court added that with Meimban's declaration of "N/A" on his SALN the Civil Service Commission was "denied of an accurate declaration of the spouses' assets and business interests".
"A person aspiring to public office must observe honesty, candor and faithful compliance with the law. Nothing less is expected...Thus, Meimban, Jr., is liable for the offenses with which he is charged," the Fourth Division said.
The decision was penned by division chairman Associate Justice Alex Quiroz with the concurrence of Associate Justices Reynaldo Cruz and Bayani Jacinto.