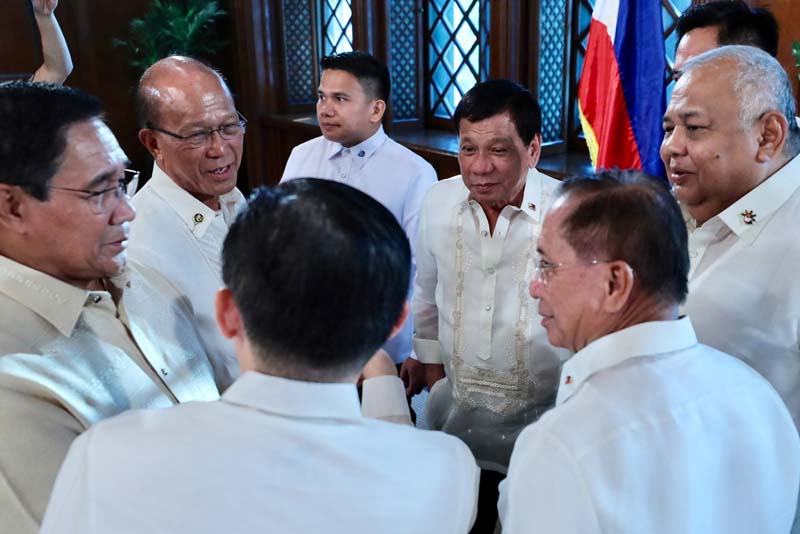 "Talk in Bisaya. Because I'd speak in the vernacular in the meetings," President Duterte said during a meeting with tribal leaders in Davao City last Thursday. PPD/Richard Madelo
Cabinet told: Learn Visayan dialect
(The Philippine Star) - February 3, 2018 - 12:00am
MANILA, Philippines — President Duterte has directed Cabinet members to learn the Visayan dialect to understand his instructions during Cabinet meetings.
"Talk in Bisaya. Because I'd speak in the vernacular in the meetings," Duterte said during a meeting with tribal leaders in Davao City last Thursday.
Talking about what happens during their Cabinet meetings, Duterte urged the non-Visayan speaking officials to learn the dialect.
"So I told them, 'You can't understand? OK, learn. It's not my problem. I'm not a member. I'm your chief in the Cabinet. Listen to what I say. If you can't understand, learn the Bisaya or Cebuano language," the President said.
Duterte, the first President from Mindanao where the Visayan dialect is widely spoken, has been delivering a number of his speeches in mixed Filipino and Cebuano.
Duterte also speaks in English, especially when there are foreigners or diplomats in the audience.
Tootbrushes and condoms
Duterte also distributed new toothbrushes, condoms and even pancit (noodles) to some 167 residents of an area popularly known as Barangay Kapwa in Davao City the other night.
After his speaking engagement at the Indigenous People's Summit held at the Armed Forces Eastern Mindanao Command (Eastmincom) headquarters in Camp Panacan in Davao City, the President passed by Barangay Kapwa, located just across After Dark, his favorite piano bar.
Upon seeing the residents gathered in the area, Duterte immediately ordered that they be given toothbrushes.
He said that the adult male residents were given condoms in an effort to curb the increasing population in the area.
And before leaving Barangay Kapwa, Duterte also ordered pancit guisado from a nearby restaurant and distributed food to the residents.
A medical-dental mission was also conducted at Barangay Kapwa yesterday.
The President has been working here in Davao City and has not been to Malacañang for the entire week.
The President was last in Malacanang on Jan. 24 when he left for New Delhi, India for the ASEAN-India Commemorative Summit.