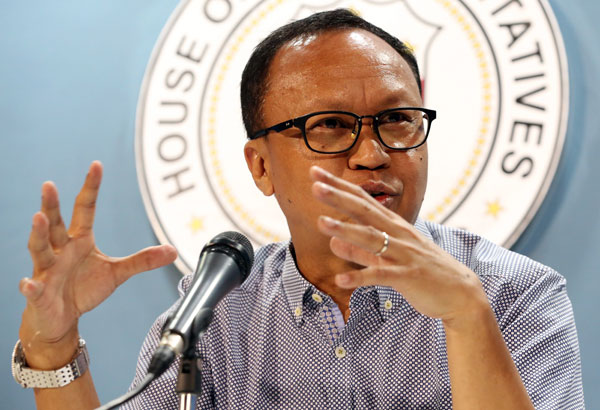 The chamber passed Bill 6710 sponsored by Eastern Samar Rep. Ben Evardone, who chairs the committee on banks and financial intermediaries, without amendment. Boy Santos
House OKs life imprisonment for ATM hackers
Jess Diaz
(The Philippine Star) - February 2, 2018 - 12:00am
MANILA, Philippines — The House of Representatives has approved on second reading a bill declaring the hacking of automated teller machines (ATMs) or the computer system of a bank as economic sabotage punishable by life imprisonment and a fine of up to P5 million.
The chamber passed Bill 6710 sponsored by Eastern Samar Rep. Ben Evardone, who chairs the committee on banks and financial intermediaries, without amendment.
"The House recognized the urgency of the need for a tougher law against criminals preying on the unsuspecting public and acted accordingly. This proposed law seeks to protect banks and their depositors, including holders of more than 80 million ATM and credit cards," Evardone said.
He said the second-reading passage of the bill is the response of the larger chamber of Congress to the recent spate of hacking of accounts in certain banks and ATM and credit cards.
He said numerous depositors, including overseas Filipino workers (OFWs), have complained of their money disappearing in their accounts even though they were not withdrawing it.
"They were surprised over how this could happen despite the strict security protocols of banks," he added.
Bill 6710 is a consolidation of two proposed laws authored by Evardone and Cebu Rep. Ramon Durano IV, which sought to amend Republic Act No. 8484, or the Access Devices Regulation Act of 1998.
Under the bill, unauthorized access through hacking or planting of a virus in a bank's computer system resulting in corruption or theft of data is defined as economic sabotage, a non-bailable criminal offense carrying penalties of life in jail and fines of P1 million to P5 million.
The same penalties are to be imposed on card skimming/data theft affecting 50 or more ATM-based accounts, credit cards or online bank accounts.
Mere possession of a card skimming device or any similar gadget used for unauthorized harvest of account data – even if no actual theft takes place – is punishable with imprisonment of six years to 12 years and a fine of up to P500,000.
The measure contains a schedule of imposable prison terms and fines depending on the gravity of the offense. The minimum length of jail time and fines is four years and P300,000.
Under RA 8484, the penalties that could be imposed are a maximum imprisonment of 20 years and a fine of P10,000 or twice the amount obtained by the offender.
Quoting data from the Bangko Sentral ng Pilipinas, Evardone said there are 76 million debit and prepaid cards currently in circulation, in addition to 8.5 million credit cards.
"Losses from ATM fraud have surged alarmingly from P175 million in 2012 to more than P600 million in 2016 – a 250 percent increase in just four years. Add to this the reported P500 million stolen through fraudulent credit card transactions in 2016 alone and one starts to get the scary picture. This has to stop," he said.
He said these figures do not include amounts taken by hackers able to penetrate the computer systems of certain banks.
He said aside from protecting bank depositors and ATM and credit cardholders, the bill would "increase security for OFW remittances totaling $33 billion each year, as well as the growing e-commerce/online shopping sector which accounted for P60 billion in revenues last year."