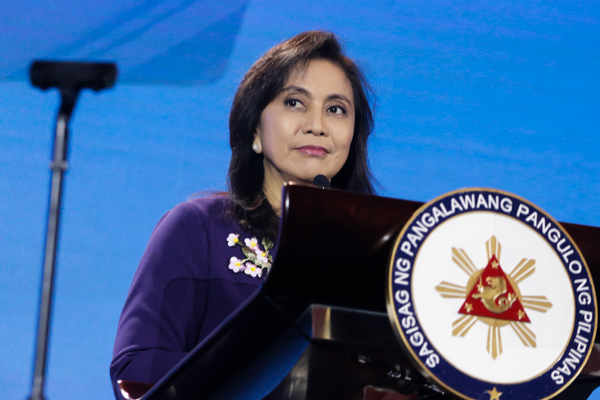 Presidential Communications undersecretary Lorraine Badoy noted that Robredo supposedly painted a "gloomy picture at a time in our history when all the important numbers are looking up." Philstar/Efigenio Toledo IV
PCOO exec claims Robredo a 'purveyor of fake news'
MANILA, Philippines — Presidential Communications undersecretary Lorraine Badoy tagged Vice President Leni Robredo as one of the "purveyor of fake news" during the Senate probe into the proliferation of false information Tuesday.
Badoy, a staunch supporter of President Rodrigo Duterte, said that misinformation and lies do not come exclusively from the camp of the chief executive and those who are identified with the government.
"In fact, the vice president is one of the primary purveyors of fake news and that the president is maybe an even bigger victim," she said.
Badoy noted that Robredo supposedly painted a "gloomy picture at a time in our history when all the important numbers are looking up."
She was referring to Robredo's remark that "darkness" is enveloping the country and calling on the members of the erstwhile ruling Liberal Party to continue fighting for their beliefs.
"This is an international audience that she peddles these lies about," she added.
This prompted Manila bulletin columnist and blogger Tonyo Cruz to ask Badoy if her accusation against Robredo is the official position of the PCOO?
InterAksyon editor in chief also stressed that whatever Badoy says, regardless of platform, speaks for the government because she holds a public position.
The PCOO undersecretary clarified that her remark was a personal opinion.
Last March, Badoy, a former Department of Social Welfare and Development undersecretary, blasted government critics in a scathing and sarcastic post on Facebook.
One of those at the receiving end of her diatribe was the European Union—which she said should just engage in child pornography because this is where the bloc is good at.
READ: EU hits DSWD Asec: Child porn is a serious issue
Earlier, Presidential Spokesperson Harry Roque also disputed the claim of Robredo, saying her remarks are "completely out of touch with the existing realities on the ground."
Roque cited Gallup International polls suggesting that the Philippines is the third happiest country in the world and the fifth highest country in the economic optimism index.
He also mentioned the Social Weather Stations surveys indicating that 96 percent entered the new year with hope and fewer Filipino families consider themselves poor.
READ: Roque says Robredo 'out of touch' over darkness shrouds Philippines remark