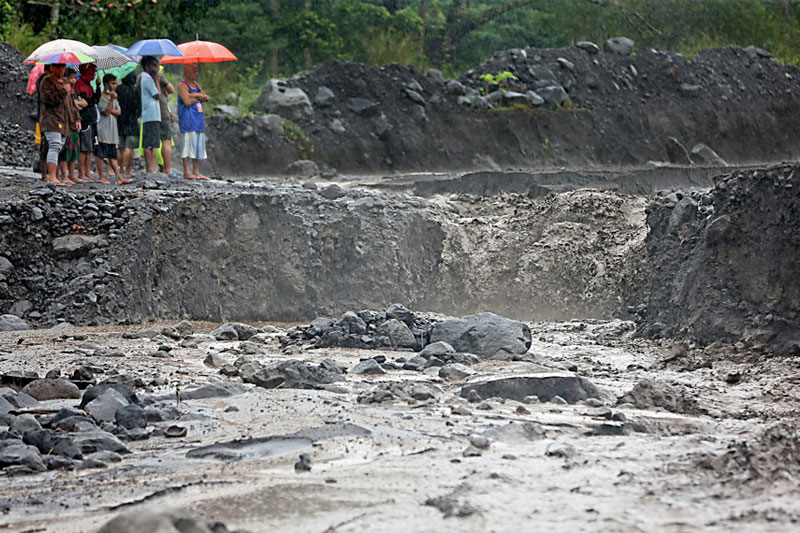 Residents watch the strong current in a muddied river in Guinobatan, Albay as heavy rains pounded areas near Mayon Volcano yesterday. The Philippine Institute of Volcanology and Seismology
warned residents to look out for possible flow of lahar, or volcanic deposits mixed with water, from the slopes of Mayon. Krizjohn Rosales
Lahar threat raised over Mayon
Cet Dematera
(The Philippine Star) - January 28, 2018 - 12:00am
MANILA, Philippines — The Philippine Institute of Volcanology and Seismology (Phivolcs) warned of potential lahar and sediment-laden stream flows on all river channels draining the slopes of Mayon Volcano following a heavy downpour in Albay yesterday.
Following the Phivolcs warning, at least 54 families were evacuated in Barangay Bigaa in Legazpi City.
Legazpi Mayor Noel Rosal ordered the immediate evacuation of the residents in two areas at Bigaa, which are most prone to lahar flow.
"I do not want to gamble this time. We need to take action right away based on the Phivolcs advisory," Rosal told The STAR as Alert Level 4 remained in effect over Mayon.
"Heavy rains over the province of Albay brought about by the tail-end of a cold front have increased the dangers of syneruption lahars on major channels draining the Mayon Volcano edifice that have been deposited with thick pyroclastic density current or PDC material and ashfall," Phivolcs said in its advisory.
Phivolcs added that the volume of the materials deposited on the watershed portions of the Buyuan and Miisi channels had already reached nine million cubic meters.
"The volume of ashfall on the western sector of Mayon is roughly 1.5 million cubic meters," Phivolcs said, adding that "these deposits can be remobilized by rainwater and generate lahars by themselves and/or by incorporating existing erodible material on channel banks."
Meanwhile, President Duterte assured Albay Gov. Al Francis Bichara that aid from the national government is ready for the residents affected by the eruptions of Mayon.
"(The) delay, the hitch must be somewhere else, not with us because my instruction was to give it right away," the President said upon his arrival from India at the Davao International Airport before dawn yesterday.
Bichara had earlier appealed for help from the National Disaster Risk Reduction and Management Council as supplies like food and face masks dwindled rapidly.
The President said he was set to visit Albay but flights had been cancelled around the area.
Melvin Almojuela of the Philippine Atmospheric, Geophysical and Astronomical Services Administration (PAGASA) office in Legazpi said the tail-end of the cold front and northeast monsoon are affecting the weather condition in Albay.
Cedric Daep, chief of the Albay Public Safety and Emergency Management Office (APSEMO), said APSEMO would recommend immediate evacuation to the local government officials should the amount of rain be sufficient to mobilize volcanic materials.
But Daep did not indicate the exact amount of rainfall threshold, saying old figures may no longer be valid since the ejected volcano materials are still fresh and loose.
Department of Science and Technology undersecretary and Phivolcs director Renato Solidum said Mayon remains at a high level of unrest.
Solidum said Mayon has not simmered down, but merely shifted to another type of unrest.
"All the other abnormal activities of Mayon remain sustained," Solidum said.
Ed Laguerta, resident volcanologist, said volcanic debris from pyroclastic density and ashfall spewed by Mayon's eruption starting Jan. 13 together with old deposits could be remobilized due to continuous heavy rains.
The Department of Education, for its part, said regular classes resume tomorrow.
Arnel Garcia, Department of Social Welfare and Development regional director, said the agency can provide relief assistance to 20,000 families for 100 days, such as food packs if needed, as evacuees may have to stay longer at evacuation sites.
At least 20,675 families or 79,586 persons are taking shelter in 72 evacuation centers in Legazpi.
The Department of Health reported that 533 evacuees have fallen ill, most of from cough and colds, acute respiratory infection, fever and the like.
The United Nations Population Fund (UNFPA) is distributing 2,021 "dignity kits" to pregnant women and new mothers displaced by the eruption.
According to UNFPA country representative Klaus Beck, these dignity kits help to meet women's immediate hygiene needs, and increase their mobility and protection during their emergency.
Meanwhile, carabaos, cows and horses were taken to safer areas. Damage monitoring showed that Albay has registered P100 million in agricultural losses. – With Celso Amo, Sheila Crisostomo, Jaime Laude, Elizabeth Marcelo, Edith Regalado