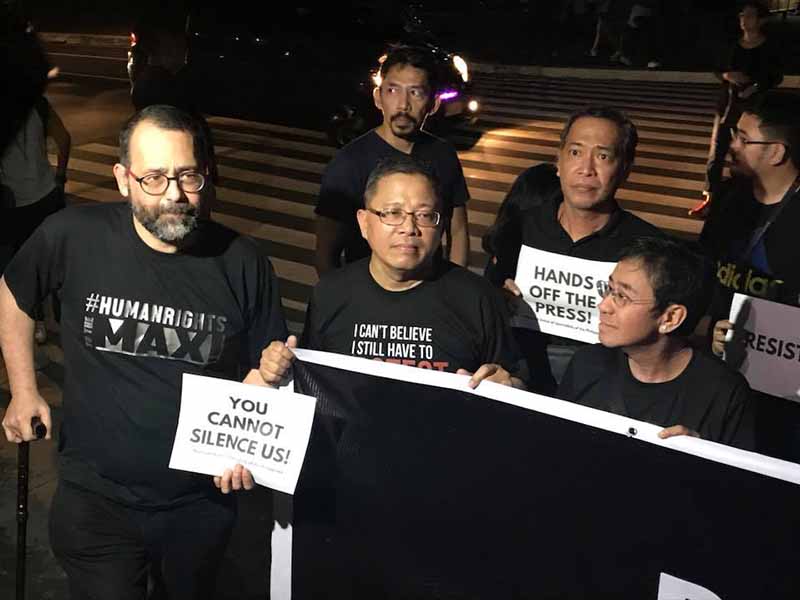 Protesters clad in black shirts trooped to UP's main gate and were joined by Commission on Human Rights chief Chito Gascon and Rappler CEO Maria Ressa. Facebook/NUJP
NUJP takes 'Black Friday' protest to UP
MANILA, Philippines — The National Union of Journalists of the Philippines on January 26 took its "Black Friday for Press Freedom" protest to the University of the Philippines, Diliman, as part of a continuing campaign against what they said was an attempt of the Duterte administration to silence the media.

Protesters clad in black shirts trooped to UP's main gate and were joined by Commission on Human Rights chief Chito Gascon and Rappler CEO Maria Ressa.

A similar demostration was staged last January 19 after the Securities and Exchange Commission's ruled to revoke the business registration of news site Rappler, which had been critical of President Rodrigo Duterte.
READ: Filipino journalists rally to defend press freedom l Palace: 'Black Friday' protest shows freedom, democracy alive

The SEC ruled that Rappler violated a constitutional prohibition on foreign ownership of media. Rappler, which will fight the ruling in court, has said its foreign investors do not have ownership or control of the company.

Three United Nations human rights experts recently called on the Philippine government to protect and promote independent media instead of attempting to shut down an outlet critical of the current administration.

In a statement dated January 26, advocacy group ANAKBAYAN said the Black Friday Protest was a prelude to "bigger anti-Duterte dictatorship mobilizations."

"As the tyrannical regime continues to trample on the people's democratic rights, Duterte's fall from power is becoming more imminent. After all, the youth will not let another dictator plunge the country into the abyss of injustice. Consider yourself warned, Duterte," the group said.