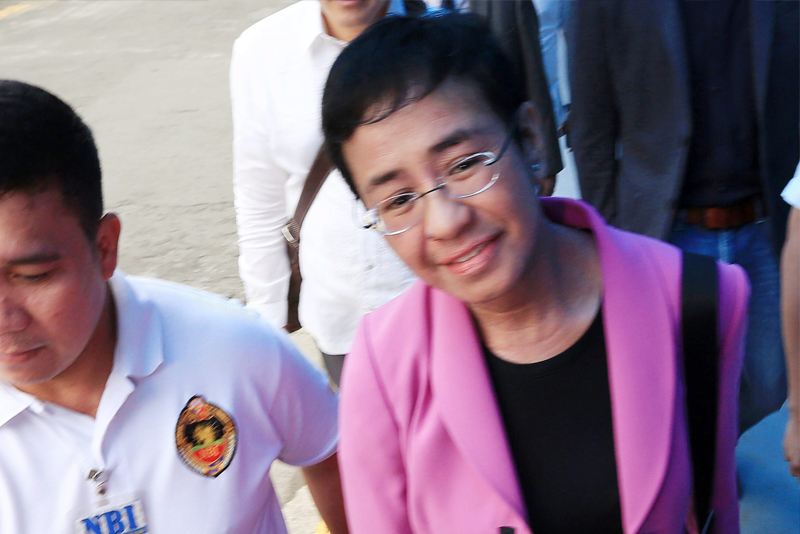 Rappler chief executive officer Maria Ressa arrives at the NBI headquarters in Manila yesterday. Edd Gumban
Ressa faces NBI: We have nothing to hide
Rey Galupo
(The Philippine Star) - January 23, 2018 - 12:00am
MANILA, Philippines — Rappler CEO Maria Ressa appeared before the National Bureau of Investigation (NBI) yesterday after being summoned over an alleged violation of the anti-cybercrime law in connection to an article in 2012.
The NBI summoned Ressa, former Rappler reporter Reynaldo Santos Jr., and businessman Benjamin Bitanga over a complaint filed by Century Peak president Wilfredo Keng.
Ressa appeared with her lawyer Jose Jesus Disini Jr., but Santos and Bitanga were not present.
Bitanga is the owner of Dolphin Fire, reportedly a major shareholder in Rappler Holdings Corp.
In an article released in May 2012, Rappler named Keng as the owner of the black Chevrolet Suburban vehicle allegedly used by the late chief justice Renato Corona, who was impeached in the same year.
The online news website also reported that one of Keng's companies had a pending case in a lower court, and that Keng was allegedly involved in human trafficking and smuggling.
Keng refuted Rappler's story, and charged the respondents for violation of the cybercrime law.
Manuel Eduarte, NBI Cybercrime Division head agent, earlier said that the subpoenas were sent to give Ressa a chance to explain.
Ressa has maintained that Rappler has "nothing to hide."
"I'm right here. We don't have a copy of the complaint, so I don't know what kind of questions they will ask, but we're not afraid," Ressa said before proceeding with her lawyers to meet with Eduarte.
She received a copy of the complaint when she met Eduarte.
The NBI gave Ressa, Santos, and Bitanga 10 days to submit comment on the complaint, after which the NBI will evaluate whether to pursue charges before the Department of Justice (DOJ).
Eduarte said Santos' article is still covered by the anti-cybercrime law even if published in May 2012. The law was enacted in September 2012.
He also said the theory of continuous publication can be applied, meaning Keng could be presumed to have seen the report only after enactment.
But lawyer Marnie Tonson of the Philippine Internet Freedom Alliance does not agree "because criminal cases are not retroactive."
The NBI is also looking into Rappler's possible criminal liabilities after the Securities and Exchange Commission (SEC) revoked its incorporation papers for supposedly violating the constitutional prohibition on foreign ownership of mass media.
In a decision dated Jan. 11, the SEC revoked Rappler's license for allegedly violating SEC rules by engaging in a fraudulent transaction and circumventing constitutional restrictions on foreign ownership.
The SEC accused Rappler of violating the Constitution when it allowed Omidyar Network, one of the Philippine Depositary Receipts (PDR) holders of Rappler, to exercise control over its corporate affairs as provided for in their internal agreement in exchange for a fund infusion of $1 million.
The NBI said there is no link between the cybercrime case and the SEC's decision to revoke Rappler's license. – With Emmanuel Tupas