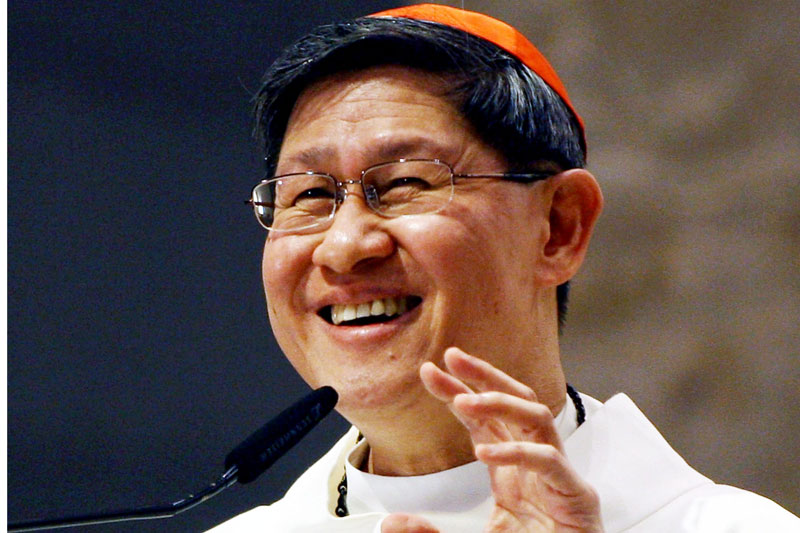 In his homily during last Saturday's mass at the Sto. Niño de Pandacan on the occasion of the Feast Day of the Sto. Niño, Tagle likened the faithful to modern-day apostles who bring people closer to the Lord. File
Bring people closer to God, Tagle tells faithful
MANILA, Philippines — Manila Archbishop Luis Antonio Cardinal Tagle yesterday urged the Filipino faithful to bring children and other people closer to God and prevent them from getting hooked on vices such as gambling and the use of illegal drugs.
In his homily during last Saturday's mass at the Sto. Niño de Pandacan on the occasion of the Feast Day of the Sto. Niño, Tagle likened the faithful to modern-day apostles who bring people closer to the Lord.
He noted, however, that there are instances when some Catholics act as hindrances and prevent people from developing their spiritual life.
"Those who have vices such as smoking, gambling, using illegal drugs, do not encourage other people to follow your bad habits, instead lead them to the Lord," Tagle said.
"We are today's apostles, I hope we are not the ones causing obstructions, preventing people from getting close to Jesus. I hope that we would be the ones to lead them to God," he added as reminder to parishioners.
During the time of Jesus Christ, according to the Manila prelate, many parents would bring their children to Him, who would put a hand atop their heads to bless and protect them.
Tagle said adults should be like children in terms of showing humility and admitting that they need the Lord's protection and blessing in their lives.
He also said that while it is not against the Church's teachings, parents would bring their children to the malls and other places as part of family bonding. He hopes, however, that they would also bring the children to Jesus Christ for protection and blessing.
Meanwhile, Manila Auxiliary Bishop Broderick Pabillo, who presided over the mass at the Sto. Nino de Tondo Church early yesterday morning, reminded the faithful to also give importance to children who are not their own on the Feast Day of the Sto. Niño.
Pabillo said they should also extend assistance to streetchildren, those who are deprived of education, those living with disabilities as well as the victims of war in Marawi City and the war against illegal drugs.
"Our devotion to the Sto. Niño is a challenge to us," he said, adding that while Catholics should be grateful for their faith and for their children, they should also ask God to help them have a deeper understanding and care for the youth.