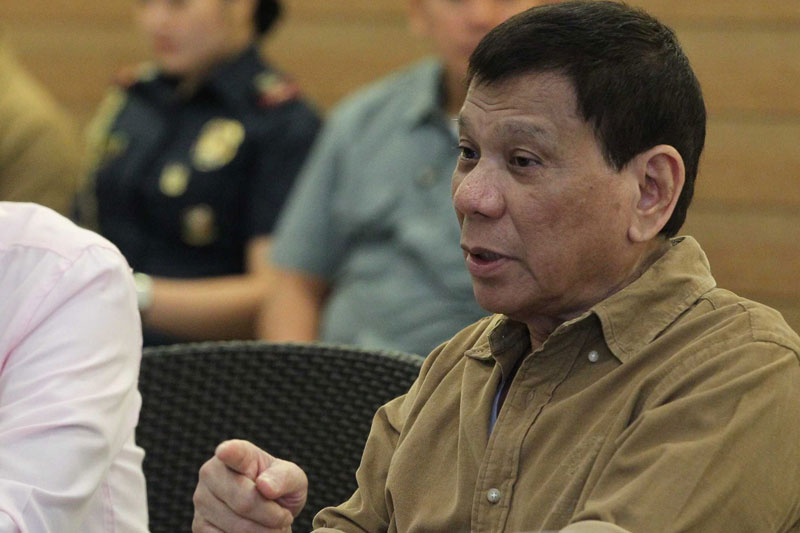 "It was a very relaxing mood, no talk of politics and no one asked the President for anything. It was very nice of our classmates who stayed up spending time with the President. File
Rody tells Ateneo classmates: Remain loyal to Jesuit principles
(The Philippine Star) - January 22, 2018 - 12:00am
DAVAO CITY , Philippines — It was an hour-and-a-half past Cinderella's bedtime, but 25 of President Duterte's classmates in Class 1961 of the Ateneo de Davao University High School could not stop reminiscing about the good old days during their reunion at the Marco Polo Hotel here before dawn yesterday.
"It was a very relaxing mood, no talk of politics and no one asked the President for anything. It was very nice of our classmates who stayed up spending time with the President. There was fun and laughter but no serious matters. The President himself was able to relax reminiscing the fun days we had back then," Finance Secretary Carlos Dominguez III told The STAR.
Dominguez was a classmate of Duterte at the Jesuit-run Ateneo from where the latter was expelled. The President had to finish his high school at the Cor Jesu College in Digos City, Davao del Sur under the tutelage of the Sacred Brothers.
In the midst of the gathering, the Chief Executive told his classmates who came with their spouses to "remain loyal to the Jesuit principles."
"As we move forward in our own endeavors, may we remain true and faithful to the Jesuit principles and academic rigor. Let the call to become men and women for others continue to manifest in our lives. I enjoin all of you to remain strong in faith as we forge a more progressive and peaceful nation," Duterte said, quoting from a prepared speech.
Dominguez said the prepared speech consisted only about 10 percent of the entire talk the President had with his classmates that drew more laughter each time he recalled the funny incidents they had together as young boys back in the early 1960s.
Dominguez said the President even recalled one instance when he had a boxing bout with Gary Tionko, one of his classmates.
Actually, members of the Ateneo High School Class 1961 have a reunion every year.
Those who came for the gathering this year wore white shirts with Ateneo printed on them, except Dominguez and Duterte. Dominguez said he left his shirt so he wore something floral while the President was in his usual long-sleeves.
Duterte recalled his younger years here and in the university which were instrumental in shaping his perspectives in life.
"My father's strength, my mother's wisdom and the joy brought by the company of people whom I call my friends have made a significant impact on me as a student and as a young man," the President said.
"Truly, my fond memories and noteworthy experience have made this place my home and my refuge," he added.
Duterte then urged Ateneans to be reminded of the hopes and values they shared in their academic journey a long time ago.
"They served as the hallmarks that inspired our transformation into empowered citizens later on," he said.
Duterte cited social justice, selfless service and equality as the values innate in Jesuit education.
"They were engraved in our hearts and minds and have helped us traverse the ills we face in society," he said.
"More importantly, these tenets echo the government's unwavering call for genuine change in our country," he added.