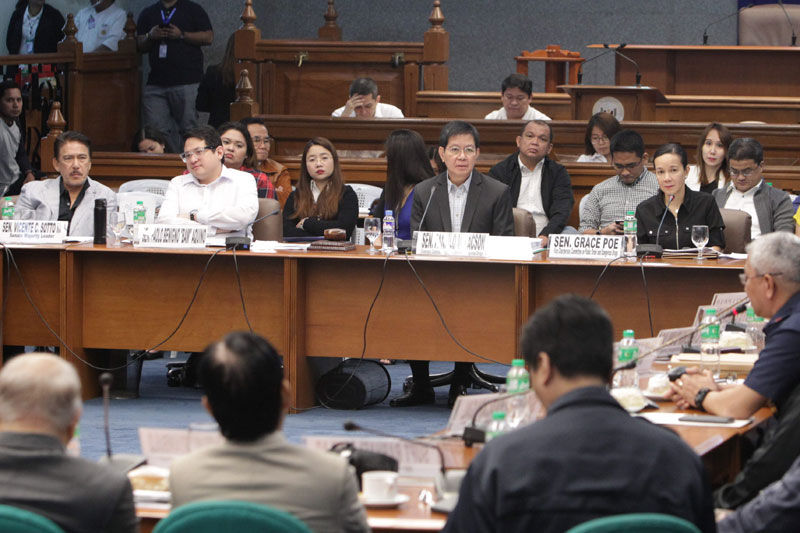 Senate President Pro Tempore Ralph Recto and Sen. Panfilo Lacson disputed the arguments of House of Representatives leaders and federalism advocates who believe that a change in the form of government would greatly improve the lot of LGUs outside Metro Manila. File
Senators: Budget reform, laws can replace federalism
Paolo Romero
(The Philippine Star) - January 22, 2018 - 12:00am
MANILA, Philippines — The government can raise incomes and economic opportunities for poor local government units (LGUs) through simple legislation and budgetary reforms instead of tinkering with the Constitution and drastically shifting the country to a federal system, senators said yesterday.
Senate President Pro Tempore Ralph Recto and Sen. Panfilo Lacson disputed the arguments of House of Representatives leaders and federalism advocates who believe that a change in the form of government would greatly improve the lot of LGUs outside Metro Manila.
Recto said it was false to say that only shifting to a federal system can the LGUs and barangays have a bigger share of tax collections as a "simple bill" can immediately infuse P283 billion to them in a year.
He pointed out that LGUs stand to lose P121.5 billion this year due to the "longstanding faulty interpretation of the rule on how the Internal Revenue Allotment (IRA) shall be computed."
Republic Act 7160, or the Local Government Code (LGC) of 1991, grants LGUs a 40-percent share from the national government's internal revenue collection, which is distributed at 23 percent for provinces, 23 percent for cities, 34 percent for municipalities and 20 percent for the barangays.
But Recto said that, under the current system, the 40 percent is taken from the Bureau of Internal Revenue (BIR) collections, "but does not include excise and VAT (value-added tax) collections of the Bureau of Customs (BOC)."
"This is wrong because VAT and excise taxes are classified as internal revenue, and the BOC is a mere collecting agent of the BIR. So, in computing the share of LGUs in determining their IRA, BOC's VAT and excise tax collections must be factored in," Recto explained.
He said since BOC collections are not included in the IRA, the LGU share from the IRA for this year is only P522.7 billion instead of P644 billion.
He said such "injustice" to LGUs can be rectified through an executive order by President Duterte although a law passed by Congress is needed to raise their IRA share to 50 percent, to usher in a "fair 50-50 sharing arrangement" on taxes paid by the people.
Recto has filed three "equal IRA share" bills, which contain other reform provisions like basing the IRA on internal revenues collected two years before, instead of the present three, and allowing the direct remittance of national wealth income, like share from mining, to host LGUs.
He said if "the 50 percent IRA plus BOC VAT and excise collections formula" were applied this year, the IRA would have been P804.9 billion, or P282.2 billion bigger than the present P522.7 billion.
For his part, Lacson said he proposed the Budget Reform Advocacy for Village Empowerment, which could actually do the work of federalism.
He revealed making a presentation to Cabinet Secretary Leoncio Evasco Jr., who opined that President Duterte might "forget" about federalism if he reads the measure.
Under the bill, each barangay will receive P5 million annually; municipality, P100 million; and the provinces, P1 billion. The funds, which is on top of the IRA, will be used solely for development, livelihood, and infrastructure and LGUs will be prohibited from using these for maintenance and other operating expenses to prevent misuse.
Lacson pointed out that many of the national government's functions have been devolved to LGUs but the funds remain with the former.
Although he favors a constitutional amendment, he said this should be focused only on the restrictive economic provisions of the Constitution.
Sen. Nancy Binay urged lawmakers to first look at how to properly implement the LGC before considering amending the Constitution and shifting to a federal form of government.
She said issues like decentralization and strengthening local autonomy are better addressed by strictly implementing the LGC as she called for more transparency in the moves to amend the Constitution.
Meanwhile, Malacañang yesterday distanced itself from Speaker Pantaleon Alvarez's threat that politicians who are against the administration's move to establish a federal government would get zero budget.
Presidential spokesman Harry Roque said the executive branch would not interfere with Congress' deliberations on Charter change because of the principle of separation of powers.
"It's hard to comment on that because I am no longer a lawmaker. My position is we will leave it to Congress to discuss that," Roque said, noting that the House cannot decide budget matters on its own because Congress consists of two chambers. "For us, it is hard to happen because in order to give a zero budget, the Senate and the House have to agree."
He added that Duterte wants the public to be informed about the advantages of a federal government—a setup that the President said would bring lasting peace to Mindanao and promote countryside development.
"The President does not want the people to be docile and ignorant on the issue of federalism," he added.
Alvarez earlier threatened not to give budget to the provinces of politicians who are opposed to the move of shifting to a federal form of government.
Duterte has promised to step down once the federal government is in place and constitutional provisions against corruption are strengthened. – With Alexis Romero
Related video: