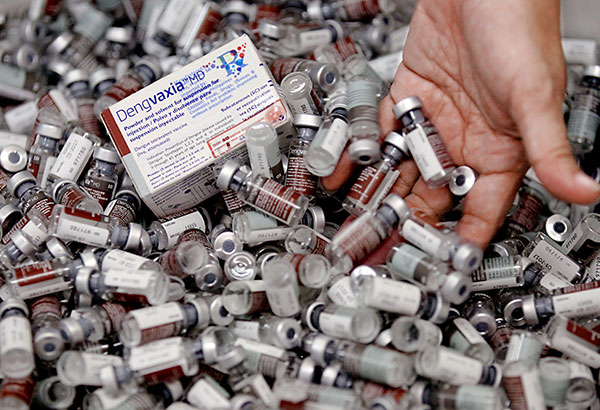 Presidential spokesman Harry Roque said the government would seek a full refund and damages even if French pharmaceutical firm Sanofi Pasteur had returned P1.2 billion worth of unused anti-dengue vaccine. Krizjohn Rosales
Palace to seek full refund, damages from Sanofi over Dengvaxia mess
MANILA, Philippines — Malacañang may demand not just a full refund of the P3.5 billion spent on Dengvaxia but also damages from its manufacturer Sanofi Pasteur for the health hazards arising from the vaccine.
Presidential spokesman Harry Roque said the government would seek a full refund and damages even if French pharmaceutical firm Sanofi Pasteur had returned P1.2 billion worth of unused anti-dengue vaccine
"After the investigation and it has been established that Sanofi had suppressed some information that harmed our young people, we won't just seek a full refund. We will also seek damages," Roque told radio station dzMM Sunday.
"But that can only happen after the investigation of the NBI (National Bureau of Investigation), the DOJ (Department of Justice) and the Senate because we cannot act based on hearsay especially of people who are not experts," he added.
The DOJ, the NBI and the Senate are probing the P3.5 billion deal to buy Dengvaxia, which may have placed students who have not had any prior dengue fever at risk of contracting a more dangerous strain.
The administration of former President Benigno Aquino III has been accused of administering Dengvaxia despite warnings about the health hazards it posed.
The previous administration has also been accused of signing the Dengvaxia deal even if the studies on the vaccine's safety have not been completed.
The Public Attorney's Office is conducting a forensic examination on the bodies of nine children who died after they were given the vaccine.
Aquino told senators last month that no one had advised him against administering Dengvaxia. The former president also claimed that experts informed him that the vaccine had undergone safety tests.
President Rodrigo Duterte has refused to pass judgment on the controversy but has expressed hope that the truth about the issue would come out.
But the president said he was presuming good faith in the actions of former Health Secretary Janette Garin, who was the health chief when Dengvaxia was administered.
More than 730,000 students from Central Luzon, Calabarzon and National Capital Region were administered the vaccine to address the rising cases of dengue fever.