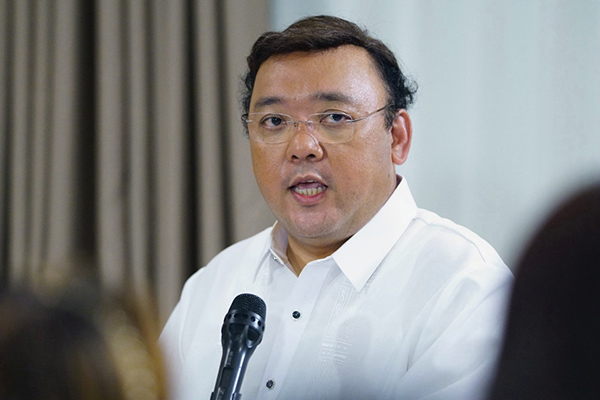 During the 72nd anniversary of the opposition Liberal Party last Friday, Vice President Leni Robredo claimed that darkness is enveloping the country and called on members of the once influential group to continue fighting for their beliefs. Presidential spokesman Harry Roque said the remark was "out of touch." Presidential Photos
Roque says Robredo 'out of touch' over darkness shrouds Philippines remark
MANILA, Philippines — Malacañang Sunday disputed Vice President Leni Robredo's claim that darkness is enveloping the Philippines, saying only discredited politicians who want to regain power are facing dark days.
During the 72nd anniversary of the opposition Liberal Party last Friday, Robredo claimed that darkness is enveloping the country and called on members of the once influential group to continue fighting for their beliefs.
She also claimed that history seems to be repeating itself, noting that the party's membership also declined during the time of the late dictator Ferdinand Marcos. Several members of the LP moved to the Partido Demokratiko Pilipino–Lakas ng Bayan, the party of President Rodrigo Duterte, after he won a landslide victory in the 2016 presidential race.
Presidential spokesman Harry Roque disagreed with Robredo, saying the vice president's remarks are "completely out of touch with the existing realities on the ground."
"The darkness that Vice President Robredo may be referring to perhaps pertains to the future of those discredited politicians who wish to return to power," Roque said in a statement.
Roque cited Gallup International polls suggesting that the Philippines is the third happiest country in the world and the fifth highest country in the economic optimism index.
He also cited Social Weather Stations surveys indicating that 96 percent entered the new year with hope and fewer Filipino families consider themselves poor.
"People's high levels of hope and optimism have been complemented by high satisfaction, approval, trust ratings," the presidential spokesman said.
Roque said the results of an SWS survey conducted last quarter indicated that more than eight out of 10 Filipinos trust Duterte while a Pulse Asia poll suggested that Duterte is the most approved and most trusted among the country's top officials. Satisfaction with the Duterte administration remains excellent based on the SWS poll conducted last quarter, he added.
"Genuine and meaningful change has been felt by our people," Roque said.