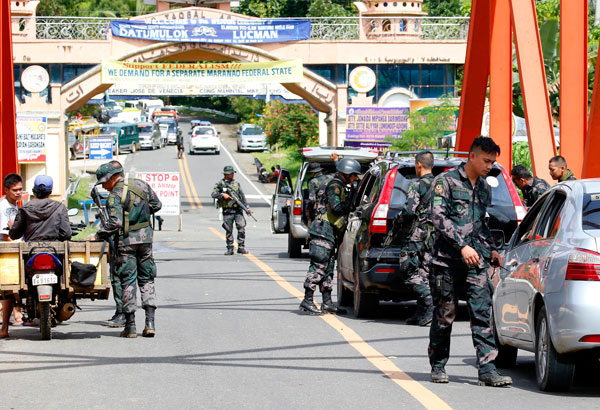 Lt. Gen. Carlito Galvez Jr., commander of Western Mindanao Command (Westmincom), said they have intelligence reports that Islamic State (IS)-inspired groups are targeting cities in the region. AP/Bullit Marquez/File
Military boosts security in Mindanao
Roel Pareño
(The Philippine Star) - January 20, 2018 - 12:00am
ZAMBOANGA CITY, Philippines — The military has strengthened security in several cities in Mindanao.
Lt. Gen. Carlito Galvez Jr., commander of Western Mindanao Command (Westmincom), said they have intelligence reports that Islamic State (IS)-inspired groups are targeting cities in the region.
He said the threats surfaced with the reported massive recruitment attempt of the IS after the Maute group was defeated during the five-month siege in Marawi City.
Galvez said they have already organized the Joint Task Force Iligan (JTFI) in Iligan City, the ninth anti-terror and security unit under the area of operation of the Westmincom.
Westmincom has task forces in Tawi-Tawi, Sulu, Basilan, Zamboanga, ZamPeLan (Zamboanga Peninsula and Lanao), Joint Task Force Central in Central Mindanao, Cotabato City and the Joint Task Force Ranao in Marawi.
"For the information of everybody, Iligan is threatened. And now, we organized Joint Task Force Iligan, an inter-agency task force similar to Joint Task Force Zamboanga and Joint Task Force Cotabato," Galvez said.
The military said Iligan is being used as corridor by the militants in coming through the Lanao provinces.
Galvez said they noticed the security in Zamboanga City was strong enough to thwart possible terror attacks.
He said they wanted to use the Zamboanga defenses as model in the establishment of the territorial security in Iligan City.
"We will continue to secure cities because we see the cities are the future targets of the ISIS group," Galvez said.
Galvez did not elaborate on a particular area but assessed key places as vulnerable, citing the experience in Marawi.
Galvez also stressed the logistical support provided by the local government units and the coordination with traditional elders in thwarting the terrorist threat.