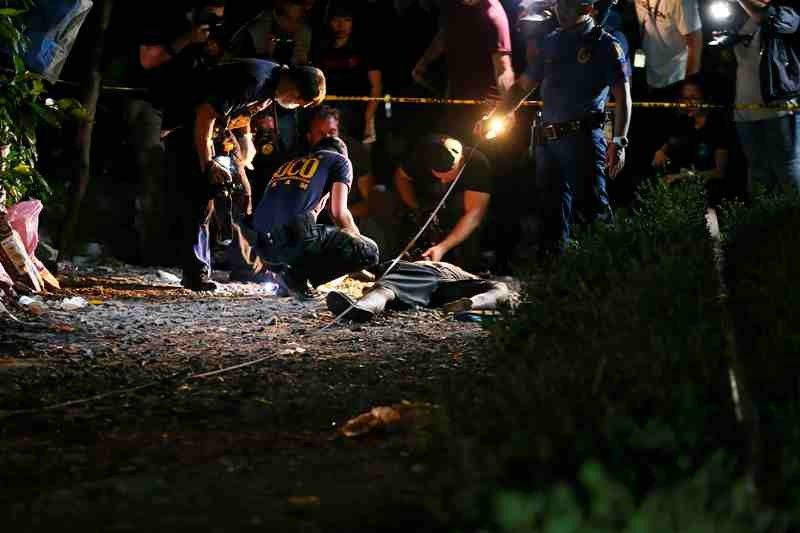 President Rodrigo Duterte has plunged the Philppines into its "worst human rights crisis" since the time of the late dictator Ferdinand Marcos, according to Human Rights Watch.
File
Philippines in 'worst human rights crisis' since Marcos
MANILA, Philippines — The Philippines is in the "worst human rights crisis" since the reign of the late dictator Ferdinand Marcos because of the bloody and brutal war on drugs waged by President Rodrigo Duterte.
"President Rodrigo Duterte has plunged the Philippines into its worst human rights crisis since the dictatorship of Ferdinand Marcos in the 1970s and 1980s," Human Rights Watch said in its World Report 2018 released Thursday.
"His 'war on drugs,' launched after he took office in June 2016, has claimed an estimated 12,000 lives of primarily poor urban dwellers, including children,' it said.
In making the assessment, the New York-based rights watchdog cited the bleak situation in the country in areas such as extrajudicial killings, attacks on human rights defenders, children's rights, press freedom, HIV epidemic, sexual orientation and gender identity, terrorism and counterterrorism and relations with international actors.
READ: HRW exec: Drug war 'travesty of basic human dignity' pushing Manila to 'disrepute'
The group said that aside from the high death toll in the war on drugs Duterte's government had also frustrated independent investigations to establish a "transparent" tally of drug-related killings.
HRW also noted that no one had so far been prosecuted for any drug war killings, with the president himself promising to pardon convicted cops.
The group also recorded Duterte's consistent attacks on journalists and news organizations, publicly threatening them with license renewal rejection or tax-related cases.
On Monday, the Securities and Exchange Commission released a shutdown order on Rappler which the president accused last year of being foreign owned.
"Journalists who report critically on the Duterte administration are also subjected to harassment and threats online," it said.
READ: Return of PNP in drug war means more bloodshed, HRW warns
Another target of attacks by the government and its allies has been human rights defenders and administration critics, according to HRW, with Sen. Leila De Lima being detained on charges she claimed were trumped up and the Commission on Human Rights being threatened with defunding.
"Duterte encouraged police attacks against human rights groups and advocates, instructing police, 'If they are obstructing justice, you shoot them,'" the group said.
The children's rights record of the country has also deteriorated, with as many as 56 children being killed in the government's drug war, according to a study by a children's rights group.
Congress has also tried to lower the age of criminal responsibility to nine from the current 15 years while the government has approved mandatory drug testing for high school and college students, it said.
"Child labor in small-scale gold mines remains a serious problem," the report said.
HRW also reported problems in government policy on the HIV epidemic in the Philippines, which has the fastest-growing in the Asia Pacific region, and cases of bullying in schools due to sexual orientation and gender identity.
READ: Duterte 'finally feeling the heat' — Human Rights Watch
Related video: