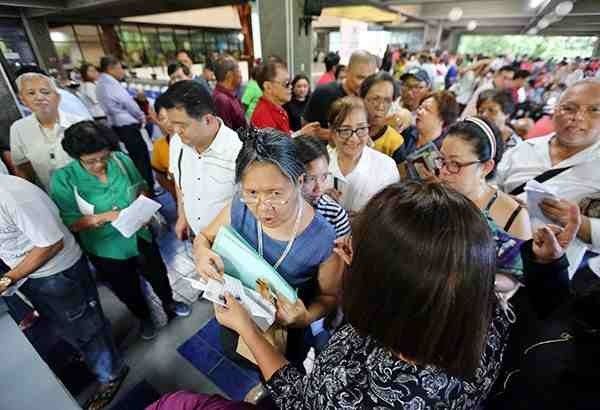 Based on HRVCB's consolidated list, there are a total of of 9,204 eligible claimants to date, most of them have already received partial monetary reparations. AP/Bullit Marquez, FILE
Claims Board confident of full reparations of martial law victims
Human Rights Victims' Claims Board (HRVCB) chairperson Lina Sarmiento Wednesday expressed confidence that her office can achieve full reparations of the victims of human rights violations during martial law, before the Board ceases operations four months from now.
"Based on our timeline, we are still on track. With the expressed commitment of all the Board members, we will be able to distribute the full amount of monetary reparations to all eligible claimants before the Board becomes functus officio," Sarmiento said in a press statement.
Republic Act 10368 or the Human Rights Victims Reparation and Recognition Act gives the HRVCB until May 12, 2018 to distribute the reparations to the legitimate claimants, which means that it will automatically cease to function after then.
Sarmiento said that to date, the Board has already adjudicated 99.2% of the total 75,730 claims filed before it.
Sarmiento said that from 2017 to date, the Board has already released a total of P354,246,052 as partial payment to eligible claimants.
Based on HRVCB's consolidated list, there are a total of of 9,204 eligible claimants to date, most of them have already received partial monetary reparations.
"While partial monetary reparations are now being distributed, the determination of the full amount cannot be made yet as we are still in the process of adjudicating appeals and oppositions. The exact amount of reparation due each legitimate claimant will be based on the total number of points awarded to all eligible claimants," Sarmiento explained.
Yesterday, Sarmiento held a regular meeting with the officers and members of the Samahan ng mga Ex-Detainees Laban sa Detensyon at Aresto (SELDA), a group of former political prisoners and victims of human rights violations during martial law.
Sarmiento said among the things discussed were the status of the SELDA members' claims, the mode of delivery of monetary and non-monetary reparations, basis for approval and denial of claims, payment procedures and the appeals process.
Related video: