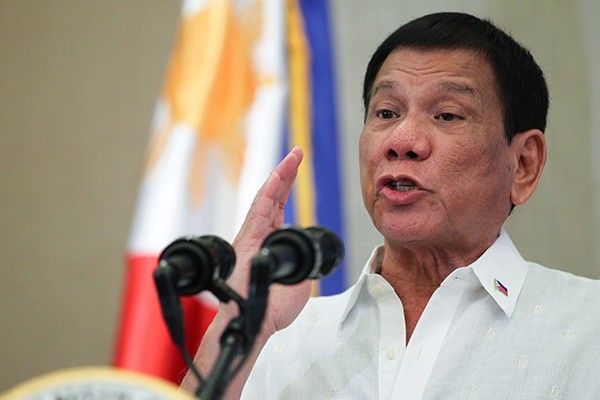 "I am in the thick of firing people. I intend to fire another maybe 70 or 49 policemen and three generals for corruption," President Duterte said. Philstar.com/File Photo
Duterte to fire agency chairman, 70 PNP officers
MANILA, Philippines — An agency chairman, some 70 policemen and three generals will be next to get the boot as President Duterte continues his firing of officials suspected of involvement in corruption under his "purging regime."
He bared his plan on Thursday before a gathering at the Manila Hotel of officials and personnel of the Philippine Amusement and Gaming Corp. (Pagcor), the government's gambling regulator.
"I am in the thick of firing people. I intend to fire another maybe 70 or 49 policemen and three generals for corruption," Duterte said.
He also said he is "firing another chairman of an entity in government" possibly within the week.
"I think that I'll be spending a lot of time just to clean up government and would consume four years for the time that I would be there. Ayaw ko na lang mag-drama," Duterte said. "This is really a purging regime."
He stressed he is unforgiving of officials who tolerate corruption in their agencies. He also maintained that while the gambling industry has helped boost the economy, it has also spawned illegal activities.
He called on casino executives not to hesitate to report corrupt activities of government officials they're dealing with.
"Lahat naman tayo ayaw ng corruption, ayaw ng mali (All of us hate corruption, wrongdoing). Even in gambling there are so many allied crimes with it," he said.
In his remarks, Duterte warned Pagcor officials as well as those in the private sector against engaging in corrupt activities.
"Kasi pati kayo, you are abetting a thing which we have put our hearts into, itong corruption," he said.
In the same event, Duterte also called on police officers to go after drug personalities and reiterated his promise to support law enforcers pursuing his fierce campaign against illegal drugs.
"But for policemen and soldiers who are prosecuted or facing charges in court, in the performance of duty or duty-connected, I will tell you, 'I will protect them,'" he said.
His campaign has left thousands of suspected drug offenders dead, many at the hands of unidentified gunmen who were suspected of being in cahoots with policemen or were policemen themselves in disguise.
"If it's done in good faith, in the performance of a duty, diyan ninyo maasahan (there you can count on me)," Duterte said. "And that is how I protect those who are honest and who are hardworking. But I hit hard those who are corrupt and should not be there in police work."
He warned erring policemen to expect no mercy from him. "Either you go out of the service and look for a lucrative job, maybe cleaning the garbage there sa basura or… I will not hesitate to… I have fired so many before and I will fire so many of you now and in the future," he said.
Duterte lamented that corruption has caused so much damage to the country.
"It has been pulling us down through the years. I don't know but I think it was mine kasi may nangyari eh and every administration has a component there of corruption and crime," he said.
Sought for comment, Philippine National Police (PNP) chief Director General Ronald dela Rosa claimed he was clueless about the identities of police officials set to be dismissed by Duterte.
"I'm not aware because there are still cases being handled by the Napolcom (National Police Commission)," Dela Rosa said yesterday in an ambush interview.
Dela Rosa said he would have to ask Napolcom about the identities and other details about the police officials.
Meanwhile, Senate Majority Leader Vicente Sotto III said it's within the President's power and prerogative to fire or replace officials.
"He (Duterte) can fire his appointees anytime for any reason or no reason at all," Sotto said in a text message.
Some of the officials Duterte had earlier fired were found to have engaged in what Malacañang said were excessive foreign travels.
Sen. Antonio Trillanes IV, one of the most vocal critics of Duterte, however scoffed at the President's pronouncement, saying he should be first to go in his own purge.
"I'll only believe Duterte's claim of purging if he shows his bank accounts because up to now he still can't explain why he has billions of pesos," Trillanes said.
Senators earlier backed Duterte's move to sanction junketing officials in the executive branch even as they stressed they don't have that sort of problem in the Senate.
Senate President Aquilino Pimentel III was referring to Duterte's threat to impose a "starvation diet" on foreign trips in the executive branch.
"Very good!" Pimentel said of Duterte's plan, adding such a move, however, is not applicable in the Senate, being part of a separate branch of government.
He said the legislature is separate and independent of the executive branch of government.
"I'm actually encouraging my colleagues to travel so we will have 'an internationally engaged Senate' which is part of my vision for the Philippine Senate and also to take some of the traveling burden off my shoulders," Pimentel said when asked whether official travels of senators would also be limited or stopped. – Paolo Romero, Emmanuel Tupas
Related video: