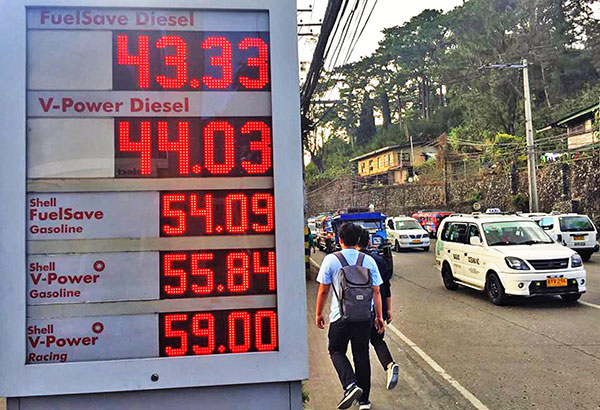 Pedestrians and motorists pass a gas station along Bokawkan Road in Baguio City yesterday where diesel prices have been raised by up to P5 per liter since the tax reform law took effect last Jan. 1. Artemio Dumlao
Decision on fare hike petitions out March — LTFRB
MANILA, Philippines — The Land Transportation Franchising and Regulatory Board (LTFRB) will release its decision on pending petitions for fare increases in March.
"The earliest is March," LTFRB spokesperson Aileen Lizada told reporters yesterday on the sidelines of a forum organized by ride-sharing app Grab after being asked when the regulatory body would come up with a decision on the petitions to raise fares.
She said the LTFRB has received Grab's petition for a fare increase to cushion the impact of the tax reform law that recently took effect.
Under the Tax Reform for Acceleration and Inclusion law, personal income tax rates will be reduced and foregone revenues from such move would be offset by higher excise tax on petroleum and automobiles, among others.
With the implementation of the law, gasoline will have a higher excise tax from P4.35 per liter to P7 per liter, while new tax rates of P2.50 per liter will be imposed on diesel, P3 per liter on kerosene and P2.50 per liter on auto liquefied petroleum gas (LPG).
Grab country head Brian Cu earlier said the ride-share app is looking at a possible six to 10 percent fare hike.
Aside from Grab, taxi operators also want to increase the flag down rate to P50 from P40 and jeepney groups also want to adjust fares.
Lizada said any fare hike to be implemented would need to go through a process.
"Next step is we will have a hearing. There is always the side of the commuters' group. The Office of the Solicitor General represents the commuters," she said.
She said the LTFRB would also want to get the help of the National Economic and Development Authority in coming up with a decision it could substantiate and justify to the riding public.
"If there is a fare hike, there has to be leveling up of service," she said.