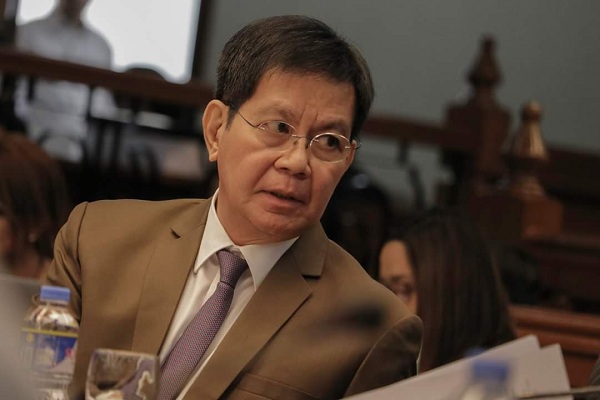 Sen. Panfilo Lacson, in his own assessment, does not see the measure getting a majority vote from his colleagues. He said just because the House of Representatives has approved a bill does not mean the Senate must also pass the same. Ping Lacson Staff/Release, File
Senate can't simply follow House on bills — Lacson
Marvin Sy
(The Philippine Star) - January 10, 2018 - 12:01am
MANILA, Philippines — Speaker Pantaleon Alvarez is unhappy with the "slow pace" at the Senate of the death penalty bills, even as senators pushing for the reinstatement of capital punishment in the country have accepted that its chances of being approved are slim.
Sen. Panfilo Lacson, in his own assessment, does not see the measure getting a majority vote from his colleagues. He said just because the House of Representatives has approved a bill does not mean the Senate must also pass the same.
"We will have to vote on this. There are times when the sponsor of the bill knows that he will not get the necessary votes, he would deem it better to take his time and resort to informal discussions with his colleagues," said Lacson, one of the authors of the death penalty bill.
The Senate committee on justice and human rights chaired by Sen. Richard Gordon is in charge of the death penalty bills and, based on his previous pronouncements, he is personally not inclined to support the restoration of death penalty.
Only one hearing has been held for the death penalty bills so far. A number of legal questions were raised, including the implications of restoring that penalty on the Philippines' treaty obligations.
Lacson said that, as far as he knows, even Senate President Aquilino Pimentel III would vote against the measure. Pimentel's father and namesake, former Senate president Aquilino Pimentel Jr., spearheaded the abolition of the death penalty in the country.
The minority bloc is also against the death penalty and, according to Lacson, so are other members of the majority bloc.
Sen. Joseph Victor Ejercito, who is supportive of the imposition of the death penalty for drug-related crimes, said that proponents of the measure would have an uphill climb because there are more senators who are against it.
"But I am in favor of it if only to serve as deterrent. The Philippines has become a hub for international drug trade in Asia. We need to take drastic measures to address this problem. Nobody wants to take a life. But I would want to support the bill to serve as a deterrent to the drug problem," Ejercito said.
Pimentel previously stated that Sen. Manny Pacquiao, who authored several bills calling for the reinstatement of the death penalty, has been tasked to sponsor the bill in plenary this month.