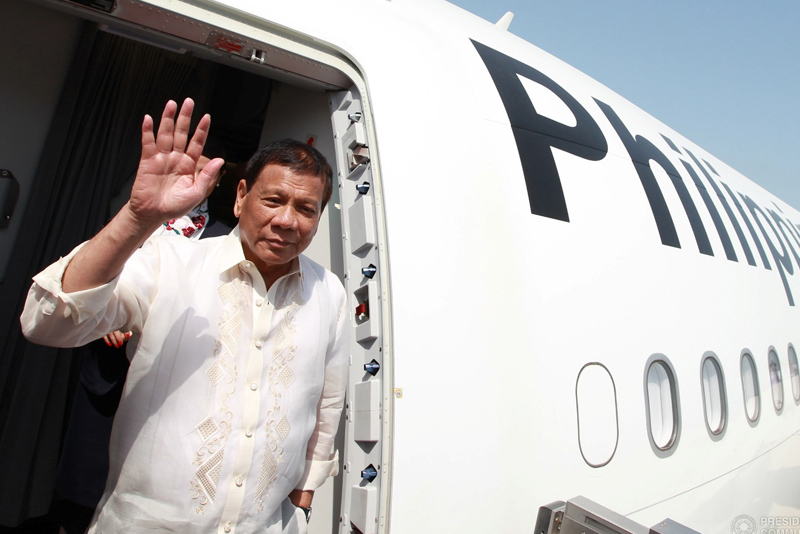 President Rodrigo Duterte may first head to Delhi, according to presidential spokesperson Harry Roque, for the India-ASEAN Commemorative Summit at the end of January. PPD
Duterte may head to India, South Korea, Israel for 2018
(philstar.com) - January 3, 2018 - 10:08pm
MANILA, Philippines — Malacañang on Wednesday said trips to India, South Korea and Israel are among the foreign travels lined up for President Rodrigo Duterte in 2018.
Presidential spokesperson Harry Roque, in a briefing, clarified that the three trips he earlier mentioned in a separate radio interview are "being discussed with the Department of Foreign Affairs."
"It's not yet definite but I know it has been mentioned," Roque said.
Duterte may first head to Delhi, according to Roque, for the India-Association of Southeast Asian Nations Commemorative Summit happening at the end of January.
According to foreign reports, India invited all the 10 ASEAN heads of state to be chief guests for the country's Republic Day Parade on January 26.
Roque said that no dates have been set yet for the South Korea and Israel trips.
For 2018, Duterte is likewise required to attend the next ASEAN Summit hosted by Singapore and the Asia Pacific Economic Cooperation Summit hosted by Papua New Guinea.
Last year, Duterte had visited Russia, China, Japan, Saudi Arabia and Qatar. Malacañang said the frequent travels of the president were to establish strong ties with other countries and entice foreign investors.
In November, however, the president issued a strong order against government officials who go on foreign trips without the proper travel authority. This, according to Duterte, is part of his program to eradicate corruption.
READ: Rody to fire officials over foreign trips
Earlier today, Malacañang issued guidelines to keep in check the executive department's officials and staff following Duterte's pronouncement against "extravagant and lavish travels."
Executive Secretary Salvador Medialdea said foreign trips of government officials and personnel would be allowed only if the purpose of the travel was "strictly" within the mandate of the requesting government official or personnel.
For the chief executive's planned foreign trips in 2018, Roque said these would "have very specific goals and part of a state visit or working visit."
The visit would also "promote trade and investments as far as the Philippines is concerned," Roque added.