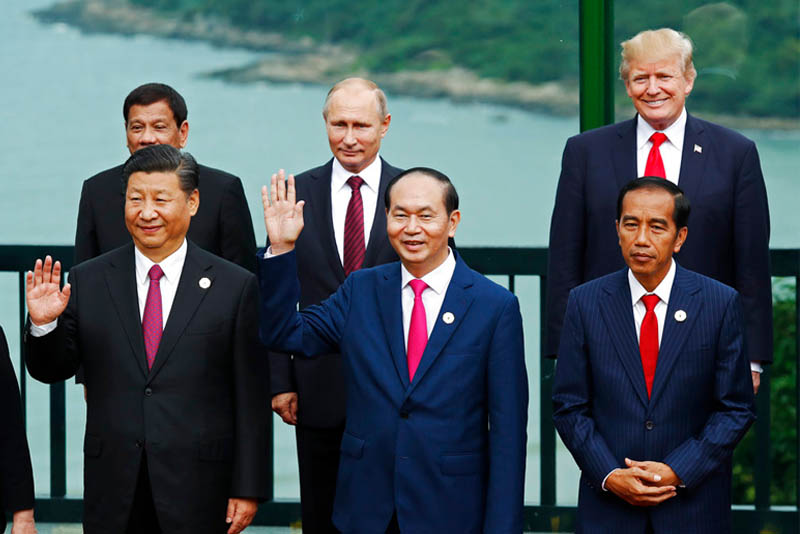 In this Nov. 11, 2017 photo, leaders pose during the family photo session at the APEC Summit in Danang, Vietnam. Front left to right; China's President Xi Jinping, Vietnam's President Tran Dai Quang, Indonesia's President Joko Widodo, back left to right; Philippines' President Rodrigo Duterte, Russia's President Vladimir Putin, U.S. President Donald Trump. Jorge Silva/Pool Photo via AP
Majority of Filipinos view Trump 'favorably'; China's Xi records low
(philstar.com) - January 3, 2018 - 11:39am
MANILA, Philippines — Seven out of 10 Filipinos expressed favorable view of United States President Donald Trump despite his controversial policies and stances on some global issues, the recent survey by an international polling firm showed.
According to Gallup International Association's 41st Annual Global End of Year Survey, 72 percent of Filipinos hold positive image of Trump. Only 23 percent viewed him negatively.
The US leader obtained a net score of +49.
This is despite him banning refugees from entering the United States, building a wall between the US-Mexico border, bombing at least seven countries in Asia and the Middle East in 2017 alone, among others.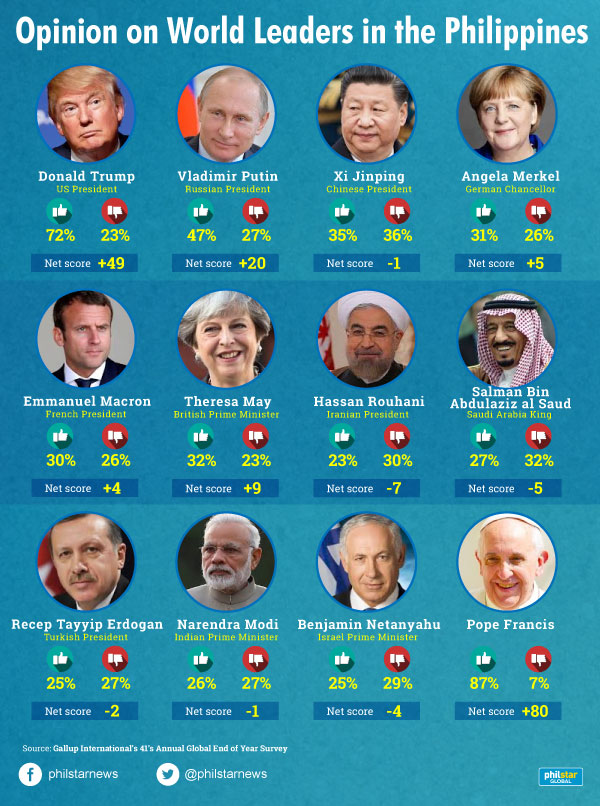 Trump, however, did not poll favorably worldwide after receiving a net score of -27.
Of the 53,769 individuals surveyed in 55 countries, only 31 percent expressed approval on Trump against the 58 percent who conveyed negative thoughts of him.
GIA noted that Trump is significantly less favorable compared to his predecessor, former US President Barack Obama.
"Two years ago, just before he left office almost three in five (59%) of those polled throughout 65 countries around the world held a favorable view of US President Barack Obama," it said.
GIA President Kancho Stoychev also noted that Trump's division of people means "the world is looking to other world leaders to fill this key role."
Nearly half of Filipinos favor Putin
Forty-seven percent of Filipinos have positive view of Russian President Vladimir Putin, while 27 percent see him negatively.
Putin, who expressed support for President Rodrigo Duterte's brutal war on drugs during their meeting at the Asia Pacific Economic Cooperation Summit in Da Nang, Vietnam, received a net score of +20 from Filipinos.
He also fared better than Trump globally with a net score of +3 (43 percent favorable, 40 percent unfavorable).
"Russian President Putin has seen his favorability increase significantly but he still needs to convince others as he remains divisive," Stoychev said.
Filipinos on Xi
Chinese President Xi Jinping, on the other hand, garnered a -1 net score in the Philippines.
Thirty-five percent of Filipinos hold favorable view of Xi, only one point lower than those who have unfavorable image of him.
China and the Philippines have eased for the past year their dispute over rights to the Scarborough Shoal and the surrounding waters as Duterte "renewed" his friendship with Xi.
READ: Duterte: Talks with Russia, China 'most meaningful' at APEC
Pope Francis is most favorable world leader in the Philippines
An overwhelming majority or 87 percent of Filipinos have positive opinion on Pope Francis. Only seven percent expressed negative opinion on the pontiff.
Pope Francis garnered a +80 net score in the Philippines—a predominantly Roman Catholic nation in Asia, which he visited in 2015.
He also recorded the highest level of favorability among world leaders with a net score of +38.
Filipinos also found British Prime Minister Theresa May (net score of +9), German Chancellor Angela Merkel (+5) and French President Emmanuel Macron (+4) favorable.
READ: Filipinos view Pope Francis as 'most favorable' world leader