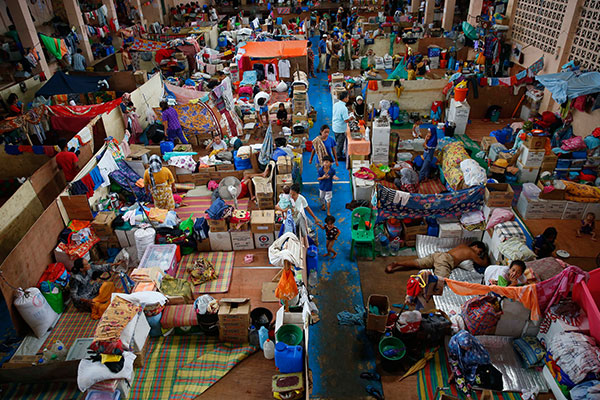 United Nations Central Emergency Response Fund allotted a total of $13 million (P647 million) to the Philippines and Mali to strengthen relief efforts in response to internal conflicts. AP Photo/Bullit Marquez
UN emergency fund to help with Marawi relief, rehabilitation
(philstar.com) - January 3, 2018 - 9:58am
MANILA, Philippines —The United Nations Central Emergency Response Fund has allocated $100 million for humanitarian relief in the Philippines and eight other countries.
UN Secretary-General António Guterres announced on December 8 that the first allocation round will help people in Cameroon, Democratic Republic of Congo, Eritrea, Haiti, Mali, Pakistan, Tanzania, Uganda and Uganda who urgently need humanitarian assistance.
"In all these crises, CERF funds will enable UN agencies and their partners to carry out essential life-saving activities, and contribute to longer-term resilience and stability," Guterres said.
UNCERF allotted a total of $13 million (P647 million) to the Philippines and Mali to strengthen relief efforts in response to internal conflicts. Another $28 million has been allocated to the Democratic Republic of Congo, $27 million in total to Uganda and Tanzania, $10 million to Cameroon, $14 million in total to Eritrea and Haiti, and $8 million to Pakistan.
The financial support to the countries was outsourced from the Emergency Relief Coordinator last 2017.
"In the Philippines, armed conflict in Marawi City displaced an estimated 350,000 people, the majority of whom remain at evacuation centers or with host communities as basic services have not been restored," UNCERF said in a statement.
The government has also allocated P15 billion for the rehabilitation of Marawi City from the 2018 national budget.
READ: P15 billion allocated for Marawi rehab in 2018
The capital of Lanao del Sur was ravaged by clashes between government forces and Islamic State-linked terrorists who attacked the predominantly Muslim city in May 2017.
President Rodrigo Duterte declared the liberation of Marawi from terrorists, marking the beginning of the city's rehabilitation.
Marawi City Mayor Majul Usman Gandamra previously said about P90 billion is needed to rebuild the affected areas.