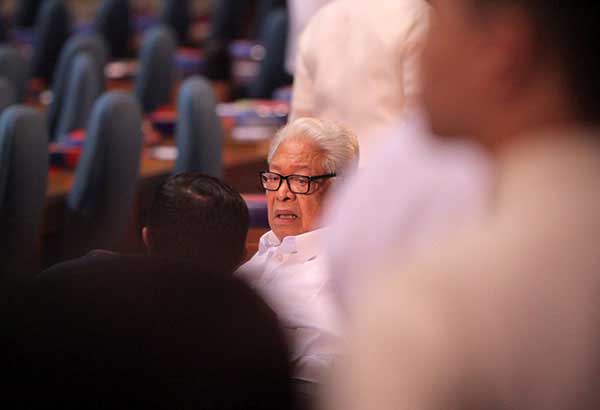 An insider in the SC said the petition filed last week by opposition lawmakers led by Albay Rep. Edcel Lagman was raffled to Associate Justice Noel Tijam, Duterte's second appointee to the high court.?While the petition was filed during the holiday break of the SC, Tijam had to review it and recommend the issuance of an order requiring the executive department to submit its comment since the Constitution sets deadline for the high court to resolve the petition. Philstar.com/AJ Bolando, File
Duterte's SC appointee to handle opposition petition vs martial law
Edu Punay
(The Philippine Star) - January 3, 2018 - 12:00am
MANILA, Philippines — The petition of opposition lawmakers in the Supreme Court (SC) against the one-year extension of martial law in Mindanao has been assigned to an appointee of President Duterte.
An insider in the SC said the petition filed last week by opposition lawmakers led by Albay Rep. Edcel Lagman was raffled to Associate Justice Noel Tijam, Duterte's second appointee to the high court.?While the petition was filed during the holiday break of the SC, Tijam had to review it and recommend the issuance of an order requiring the executive department to submit its comment since the Constitution sets deadline for the high court to resolve the petition.
Upon Tijam's recommendation, the SC through Chief Justice Ma. Lourdes Sereno, issued the order last week requiring the Office of the Solicitor General to answer the petition and submit its comment within 10 days.
In their petition, Lagman and company asked the SC to issue a temporary restraining order "before the effectivity on Jan. 1, 2018 of the challenged re-extension" of martial law.
The other petitioners were Reps. Tomasito Villarin (Akbayan Citizens' Action party-list), Edgar Erice (Caloocan City, 2nd District), Teddy Baguilat Jr. (Ifugao), Gary Alejano (Magdalo party-list) and Emmanuel Billones (Capiz, 1st District).
Petitioners pointed out that under the 1987 Constitution, the phrase "imminent danger" was deleted, as part of the safeguards against abuse of power.
"'Rebellion' or 'invasion' is neither a state of mind nor state of fear. It must be actual, not contingent. It must be real, not contrived," they stressed.
The lawmakers also said that the "leadership and supermajority of Congress of the Philippines" violated the safeguards of the Constitution when it "approved baselessly and with prudent alacrity" Duterte's request for an extension of martial law.
Duterte cited the "continuing crime" of rebellion by the New People's Army in his request for one-year extension of martial law, which Congress approved via an overwhelming 240-27 vote last month.
Solicitor General Jose Calida said he would seek the dismissal of the new petition, arguing that the extension of martial law was necessary even if the Marawi siege stemming from the attack of local terror group Maute-IS in May last year has already ended.
He also argued that the validity of the extension of martial law was resolved by Congress as provided for in the Constitution.