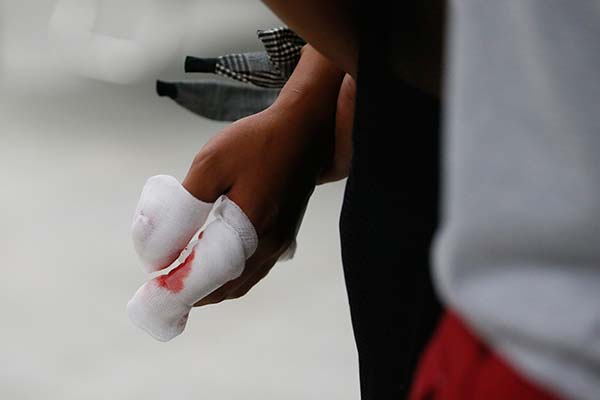 Of the injuries, "piccolo" remained the leading cause with 129 victims, mostly children. It was followed by kwitis (sky-rocket) with 43; unknown firecrackers, 34; luces, 22; "fountain," 19; "5-Star," 12; boga or PVC cannon, 11, and whistle bomb with seven. AP/Bullit Marquez, File
DOH: 362 firecracker injuries since December 21
MANILA, Philippines — New data from the Department of Health (DOH) yesterday showed 362 firecracker-related injuries since Dec. 21 last year when the DOH started documenting cases.
Of the injuries, "piccolo" remained the leading cause with 129 victims, mostly children. It was followed by kwitis (sky-rocket) with 43; unknown firecrackers, 34; luces, 22; "fountain," 19; "5-Star," 12; boga or PVC cannon, 11, and whistle bomb with seven.
The DOH reported that 196 of the victims were active users or those who lit the firecrackers themselves. Twelve victims suffered amputation of limbs while 61 had eye injuries.
No fireworks ingestion or stray-bullet injury was reported to the DOH.
From a 68-percent drop in firecracker-related injuries during the New Year's Eve revelry last Sunday, Health Secretary Francisco Duque III said he aims for an 80 to 100 percent decrease next time by strengthening the "Aksyon: Paputok Injury Reduction" program.
"This is possible if parents will also help the government in the campaign by prohibiting their children from using firecrackers," Duque said over Bombo Radyo Dagupan yesterday.
Duque attributed the drop in firecracker injuries this year to President Duterte's Executive Order No. 28 that bans certain kinds of firecrackers.
Duque said the DOH's monitoring efforts will continue until Jan. 6.
Meanwhile, the DOH yesterday urged those who have sustained small cuts or slight burns from firecrackers and other forms of pyrotechnics to see a doctor to prevent tetanus.
It is important for even small cuts or slight burns to be examined by doctors because these could still lead to tetanus, DOH undersecretary Gerardo Bayugo said.
Meanwhile, Celso Cruz, chairman emeritus of the Philippine Pyrotechnics Manufacturers and Dealers Association Inc., claimed that EO 28 and Republic Act 7183 or the Firecracker Law confused the public on whether firecrackers are banned or not.
Joven Ong, president of the Philippine Fireworks Association, agreed with Cruz that the confusion affected the sale of pyrotechnic products as buyers were apprehensive in procuring firecrackers since some local government units had banned these, they said.
Fireworks stakeholders, Cruz added, complained to him that information dissemination on EO 28 and RA 7183 was insufficient, especially because the DOH merely focused on its "Paputok Injury Reduction" campaign.
Ong claimed that the confusion and the DOH campaign led to work stoppage in firecracker manufacturing and allied industries, resulting in capital and job losses.
At the so-called fireworks capital of Bocaue, Bulacan, Police Supt. Jowen dela Cruz told The STAR that from 2016's 15 manufacturers in town, only six renewed their licenses while the number of fireworks dealers dropped from 150 to 75.
For his part, Bocaue Mayor Joni Villanueva assured the public that the local government unit would make sure the fireworks industry would produce safe products by strictly following the rules and regulations set by law.
Cavite, Laguna, Batangas, Rizal and Quezon (Calabarzon) police recorded a decrease of 59 percent in firecracker-related injuries and other incidents compared to last year.
A total of 139 incidents were recorded from Dec. 16, 2017 to Jan. 2, compared to 229 covering the same period last year, Chief Supt. Mao Aplasca, police regional director for Calabarzon, said.
Firecrackers worth P215,850 were confiscated at checkpoints and other police operations, Supt. Chitadel Gaoiran, spokesperson for Calabarzon police, said.
In Central Luzon, police apprehended 71 individuals for violating RA 7183 in Nueva Ecija last Christmas.
More than 1,000 community fireworks display areas had been established in the region in compliance with EO 28.
A total of 149 firecracker-related injuries were recorded, Chief Supt. Amador Corpus, Central Luzon regional police director, said.
Firecracker-related incidents in Negros Occidental dropped from last year's 39 to 17, while in Bacolod City these fell from 15 to 4. – Ramon Efren Lazaro, Eva Visperas, Ed Amoroso, Gilbert Bayoran, Ric Sapnu