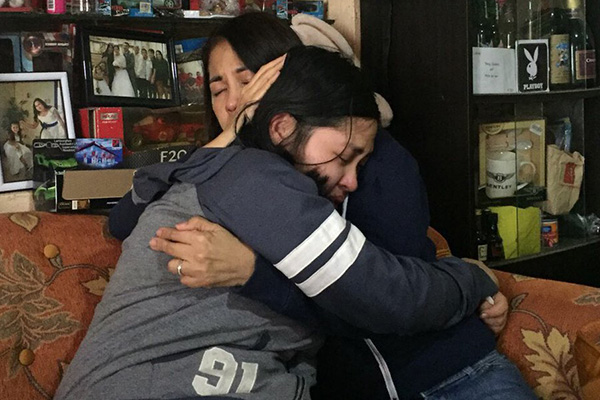 Ica Policarpio was reunited with her family after going missing for two days. Bea Policarpio/Facebook
Ica's disappearance caused by 'deep emotional distress'
(philstar.com) - December 26, 2017 - 11:49pm
MANILA, Philippines — The Policarpio family has broken its silence on the disappearance of 17-year-old Ica, who was found in Laguna on the day before Christmas.
"On behalf of the entire Policarpio family, I (Bea) would like to deeply thank each and every one of you who have helped us bring my sister Ica home. Though we have not met so many of you, through your prayers, posts, and messages, we have really felt your love and concern for our family in the time of our greatest need," Bea Policarpio said on her Facebook page on Tuesday.
"If it were not for all of you who saw and shared our posts, I have no doubt that Ica would still be missing or worse. Because of this, there is no way we can ever repay everyone for the miracle that we have received," she also said.
Although calls to help find Ica spread quickly on social media, the family's request for privacy after she was found brought on a backlash from many social media users and some bloggers, who demanded an explanation for the disappearance.
Some speculated the teen disappeared as part of a "48-hour challenge" or as a social media stunt. Bea said that Ica told her she was not aware of the existence of a challenge. "She did not join any such challenge. Her disappearance was not a prank," Bea said.
She said that Ica's disappearance was caused by "deep emotional distress."
Without going into detail, Bea said Ica "is still being evaluated medically, and it is our family's sole responsibility to understand what has caused her to carry so much pain not just in the recent past, but apparently, for several months, and even years prior."
"Be assured that we are doing everything we can to make sure that she receives the medical attention and emotional support that she needs," Bea also said.
"Please, we only beg that you do not judge her and that you help safeguard her future. If there's anything positive that we hope can result from this experience, it is to raise awareness about the stigma of mental health and the growing culture of hate which unfortunately exists in our country's cyberspace, and collective mind space. If anything, this hate culture is a desperate call for help. Let us answer this call with nothing but love, as difficult as this may be."