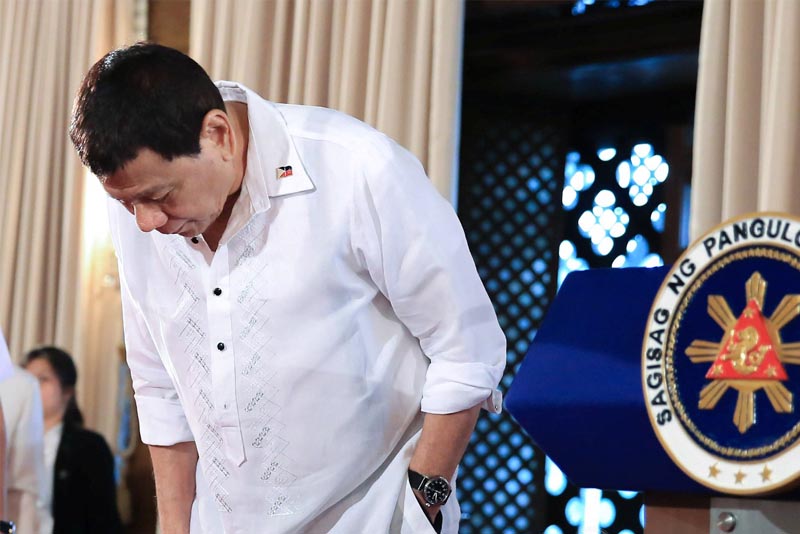 President Rodrigo Roa Duterte shows a gesture of respect as he arrives in Malacañan Palace for the Ceremonial Signing of the 2018 General Appropriations Act and Tax Reform Acceleration and Inclusion on Dec. 19, 2017. Presidential photo/Albert Alcain
SWS: Duterte's satisfaction rating rebounds to 'very good' in Q4
(philstar.com) - December 23, 2017 - 3:22am
MANILA, Philippines — Satisfaction with President Rodrigo Duterte significantly recovered in the last three months of 2017 after his rating fell to the lowest of his presidency in the third quarter, a Social Weather Stations survey released Friday found.
In the fourth quarter, net satisfaction, used by SWS as a rating of the president's performance, jumped to +58, classified as "very good" in the survey of 1,200 Filipinos conducted from December 8 to 16.
That was 10 points above the "good" +48 in the third quarter, which saw an 18-point drop in the hugely popular leader's satisfaction score following the death of a minor in his deadly drug war and allegations of hidden wealth.
READ: SWS president: Duterte ratings dip normal but faster than average
"It's probably the success in the Marawi siege. And as always it's the economy," former Ateneo school of government dean Tony La Viña said.
"As long as people feel they are doing well, they give high scores to the government," he added.
Among the news items when the fourth quarter poll was conducted was the end of the security crisis in the principal Islamic city of Marawi — which was stormed by heavily-armed, homegrown extremists who pledged allegiance to ISIS.
Also in the news was Congress' swift approval of an extension to Duterte's martial law powers across Mindanao for another year to defeat jihadist militants and communist fighters operating there.
The Philippine economy also grew faster than expected in the third quarter, putting the country on track to meet its full-year target, data released by the government last November showed.
Noting the drastic decline in the president's net satisfaction rating in the third quarter, for Ramon Casiple, executive director at the Institute for Political and Electoral Reform, the fourth quarter result "proved that the downtrend is wrong."
Meanwhile, SWS attributed the improvement in Duterte's rating to sharp increases in all areas, with gains recorded in Balance Luzon (14 points), Metro Manila (11 points), Visayas (10 points) and Mindanao (3 points).
Public satisfaction with Duterte likewise clocked solid increments in both urban and rural areas, as well as across all classes, sexes, age groups and educational levels.
Based on SWS methodology for net trust ratings, a score of 70 and above is considered excellent, 50 to 69 is very good, 30-49 good and 10-29 moderate.
The poll has sampling error margins of ±3% for national percentages, and ±6% each for Metro Manila, Balance Luzon, Visayas and Mindanao.