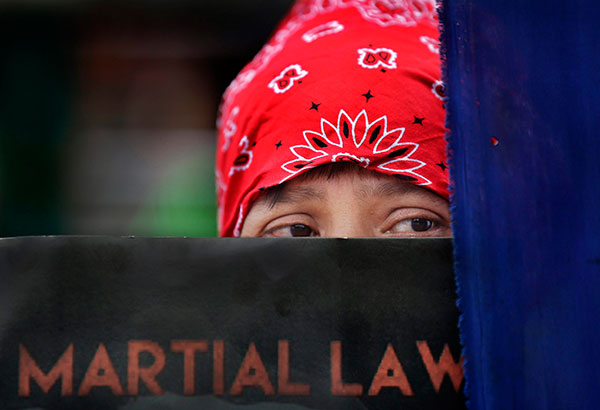 An activist holds a placard denouncing martial law during a rally held in Manila after the Supreme Court upheld President Duterte's declaration of martial law in Mindanao. AP
SWS: Majority of Filipinos object to martial law extension in Mindanao
(philstar.com) - December 22, 2017 - 4:00pm
MANILA, Philippines — Majority of Filipinos oppose the extension of martial law in Mindanao, according to a survey conducted by Social Weather Stations, with most of respondents saying troops can suppress militants in the insurgency-plagued region without military rule.
On May 23, President Rodrigo Duterte imposed martial law in Mindanao after the principal Islamic city of Marawi was stormed by heavily-armed, homegrown extremists who pledged allegiance to ISIS.
In July, Congress overwhelmingly voted to prolong military rule in Mindanao until yearend after the proclamation reached its 60-day constitutional limit, giving Duterte more time to stabilize the strife-torn region where ISIS was gaining influence.
With 240-27 vote at a joint session, Congress last week swiftly approved Duterte's request to extend martial law in Mindanao until Dec. 31, 2018 and arrest suspected rebels there without charge.
According to an SWS survey — which polled 1,200 Filipinos on December 8 to 16 — 62 percent of respondents agreed that martial law in Mindanao should not be extended "because the war in Marawi has ended."
Opposition to the extension of martial law in Mindanao beyond Dec. 31, 2017 was highest in Metro Manila at 67 percent, followed by Balance Luzon at 63 percent, Mindanao at 62 percent, and Visayas at 55 percent.
"Majorities across demographics (ranging from 55% to 67%) oppose the extension of Martial Law in Mindanao beyond 2017," the pollster also found.
In a rousing address to troops last October, Duterte declared Marawi liberated from pro-ISIS extremists after five months of fighting that gave state forces their first taste of urban warfare.
But in his letter to Congress, Duterte cited continuing threats of ISIS-inspired terrorists in seeking for an extension of martial law, adding that those who escaped the Marawi battle were actively recruiting to carry out future assaults.
He also warned about heightened guerilla attacks following the collapse of peace talks between the government and communist rebels.
However, majority of those polled by the SWS (66 percent) believed that the Armed Forces of the Philippines can defeat terrorists in Mindanao like the Maute group and Abu Sayyaf bandits even without martial law.
Martial law remains a sensitive issue in the Philippines after it was used by the late dictator Ferdinand Marcos in the 1970s to perpetuate himself to power.
Opponents feared Duterte might declare a nationwide martial law, but the authorities had repeatedly dismissed that.
At last week's joint session, a handful of lawmakers opposed the additional year of martial law, arguing that prolonging the previously extended proclamation would be unconstitutional and could lead to more human rights violations in Mindanao.
"We do not ask for unlimited martial law. What we are seeking is unlimited peace," Executive Secretary Salvador Medialdea told legislators.