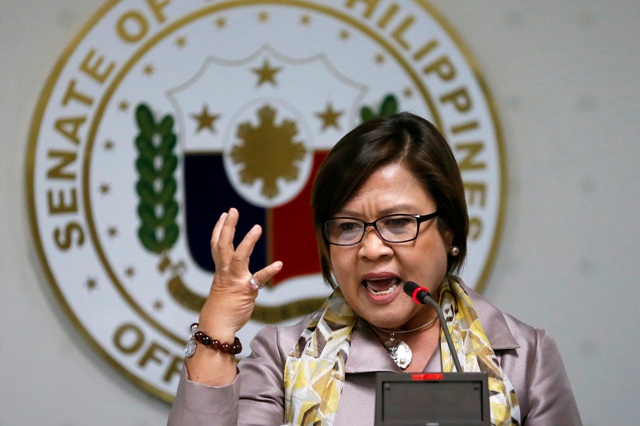 Senator Leila De Lima said that the entry of a Chinese company into the country's telecommunications industry poses "information and communication infrastructure" threat to the country. AP/Bullit Marquez
De Lima warns against Chinese entry into local telco industry
(Philstar.com) - December 19, 2017 - 9:05am
MANILA, Philippines — Senator Leila De Lima on Tuesday warned that allowing a Chinese company to become the country's third telco player poses a security threat.
In a statement, De Lima raised issue that our country's "information and communication infrastructure" may be compromised by the entry of the Chinese telecommunications player.
"What will assure us that in the future, our national security and whole intelligence and defense systems won't be compromised, if not under the complete control of a foreign government with national interests diametrically opposed to our own?" De Lima, one of Duterte's fiercest critic, also said.
Duterte has earlier invited a Chinese company to break the longstanding duopoly on Philippines' telecommunications.
On Tuesday, he announced that he has ordered the Department of Information and Communications Technology and the National Telecommunications Commission to approve all applications and licenses within seven days upon submission.
The president also warned the judiciary—the executive's co-equal branch—not to issue a halt order on the entry of the new telco players as the move is of "national interest."
Malacañang earlier allayed fears of security invasion from a Chinese telco player. Presidential Spokesperson Harry Roque assured that the government will look into cyber security threats in general.
Pivot to China
De Lima also slammed Duterte's "economically irrational decision" brought about by this administration's pivot to China.
"Already the intention is to make China our center, shunning Western democracies, but without the economic independence and self-sufficiency of the other progressive ASEAN nations to enable us to stand our ground against the Chinese juggernaut," she added.
Manila and Beijing have been in long-running territorial dispute over the West Philippine Sea. The Philippines' invite for China to enter into our local telco industry resulted from a bilateral meeting between Duterte and Li Keqiang, China's Premier.
The senator also pointed out that it will be the "common citizens" who will carry the burden of the country's future loans from the Asian economic giant.
De Lima reminded the Duterte administration of the experiences of other countries such as Sri Lanka, Bangladesh, Nepal, Cambodia and other Asian and African countries where "China demands for its pound of flesh once it decides to cash in."
China is known for offering loans but critics predict that the loans later put the countries in a debt trap.