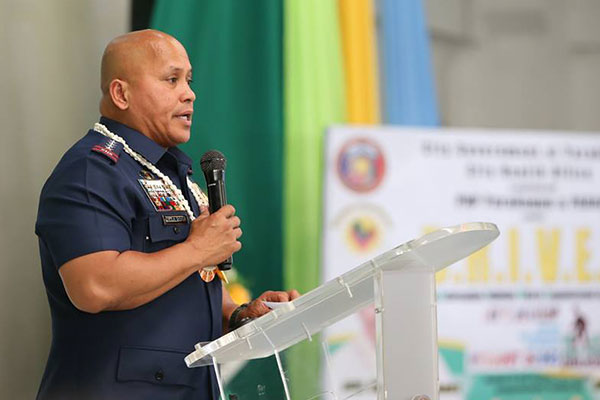 Philippine National Police chief Director General Ronald dela Rosa, however, said he would assess the situation and confer with his 17 regional directors before making his recommendations to President Rodrigo Duterte. PNP-PIO/File
No reason for nationwide martial law — Bato dela Rosa
MANILA, Philippines — The country's top cop believes there is no reason yet to place the entire country under martial rule.
Philippine National Police (PNP) chief Director General Ronald dela Rosa, however, said he would assess the situation and confer with his 17 regional directors before making his recommendations to President Duterte.
"When my subordinates, my regional directors, recommend 'sir, it's best to have martial law,' it is my obligation to recommend it to the President," Dela Rosa said in an interview with reporters at Camp Crame yesterday.
Duterte earlier said "all options are on the table" when asked if he would consider extending the scope of martial law from Mindanao to the entire country.
He maintained he would listen to the recommendation of the PNP and the Armed Forces of the Philippines (AFP).
As Chief Executive, it is Duterte's prerogative to expand martial law, Dela Rosa explained.
He said he would not preempt any announcement from the President.
He added martial law in Mindanao has not hindered the movement of peace loving people.
"Go to Mindanao and ask the people if they're afraid of martial law. Nobody is," he said. "For the bad guys, the effect of martial law is severe.
"Their movements are restricted. Their opportunities are limited and most of them are hiding. That's the effect of martial law in Mindanao," he pointed out.
While describing the proposal to expand martial law as "uncalled for," Dela Rosa said martial law would make it easier for policemen to do their job.
Martial law, he said, "will give us a favorable working condition, a favorable operational environment." But he stressed the police could get the job done even without martial law.
"My assurance to the people of the Visayas and Luzon is that look at martial law in Mindanao. It will satisfy everything or you may ask the Mindanaoans, 'how do you feel about martial law?' before you oppose or feel frightened," he added.