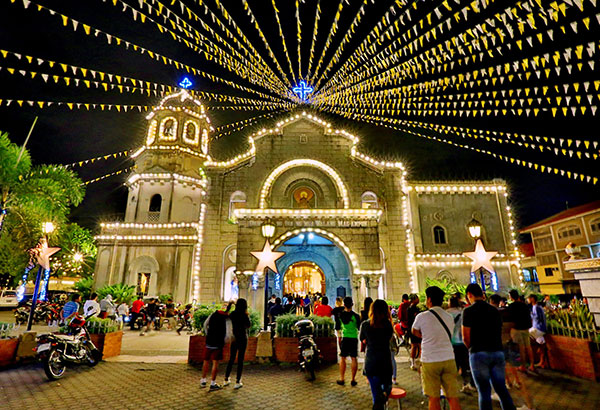 SIMBANG GABI: Families attend the traditional Misa de Gallo at the Our Lady of the Abandoned Parish Church in Marikina yesterday. The dawn mass is held for nine consecutive days as a religious sacrifice prior to Christmas Day. Walter Bollozos
'Simbang Gabi unaffected by martial law in Mindanao'
MANILA, Philippines — The continued imposition of martial law in Mindanao, according to some bishops, had no adverse effect on the attendance of churchgoers as the Simbang Gabi or dawn mass kicked off yesterday.
Ozamiz Archbishop Martin Jumoad said he would be happy and feel more secure if military men would be present during the entire nine-day tradition.
The Simbang Gabi, also called Misa de Gallo, has been observed by Filipinos for generations and has become a part of the way they prepare for the birth of the Savior on Dec. 25.
"Martial law will not affect the observance and celebration of the Misa de Gallo. Martial law extension is good in areas where rebels are present. People trust our military and its presence is well appreciated," Jumoad said.
He recalled that even before, when he was head of the Prelature of Isabela in Basilan, they were always pleased when they saw soldiers in the area.
"When I was in Basilan, we would be happy if the military will be around during the Misa de Gallo. Our soldiers are professionals, respectful and well disciplined. Let us not think badly of our soldiers," Jumoad added.
When he visited Iligan City in Lanao del Norte last Dec. 14, Jumoad also noticed that soldiers stationed at checkpoints were very respectful to commuters.
For his part, Bishop Dinualdo Gutierrez of Marbel, South Cotabato said there were no reports of substantial reduction in attendance during the first day of the traditional mass in his area.