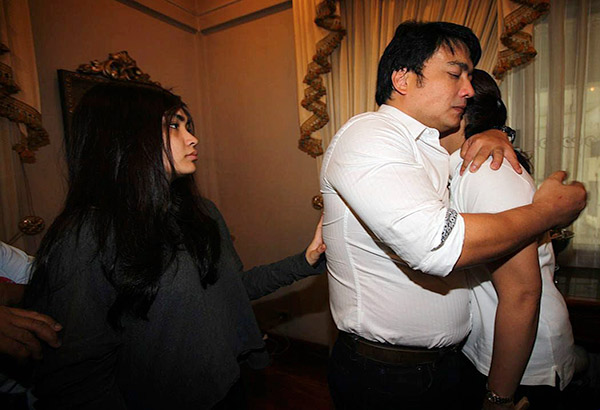 Cavite Rep. Lani Mercado and Ramon "Bong" Revilla Jr. embrace before the senator surrendered to the Sandiganbayan. File photo
Bong Revilla seeks holiday furlough
MANILA, Philippines — Former senator Ramon "Bong" Revilla Jr. is seeking the court's permission to leave his detention for four days to spend Chistmas and New Year with his family in Cavite.
In his motion filed on December 12, Revilla has prayed to the Sandiganbaya First Division to allow him to leave his detention from 11 a.m. on December 24 until 8 p.m. on December 25 and at 11 a.m. on December 31 until 8 p.m. on January 1.
Revilla said he wants to spend the traditional Christmas Eve and New Year's Eve dinner or Noche Buena and Media Noche with his family in Bocoor, Cavite.
"In view of recent events and the health conditions of his father, Senator Revilla Sr., accused Revilla needs the comfort and security of his family. There is nothing more important for accused Revilla in the these trying times than the love and support of his family," his motion read.
Revilla, together with his former aide Richard Cambe and the alleged pork scam mastermind Janet Lim-Napoles, is facing plunder and graft cases before the First Division in connection with the alleged misuse of his Priority Development Assistance Fund or pork barrel during his term as a senator.
Revilla, through Cambe, allegedly received from Napoles P224.5 million in kickbacks or commissions in exchange for the allocation of his PDAF to the latter's bogus non-government organizations.
Just early this month, the First Division denied Revilla's motion for leave to file a demurrer which aims to challenge the prosecution's evidence and seeks the dismissal of his non-bailable plunder case.
In his bid for a holiday furlough, Revilla said lamented that for the past three years he was unable to spend Christmas and New Year at home with his family.
Revilla and Cambe are detained at the Philippine National Police Custodial Center in Camp Crame, Quezon City since June 2014 while Napoles is detained in Camp Bagong Diwa in Taguig City.
Meanwhile, in its opposition paper dated December 14, the Office of the Ombudsman's prosecution team said Revilla's motion must be denied "for lack of merit."
The prosecution said that with the gravity of the Revilla's cases and the recent denial of his bid to file a demurrer, the court must not leave any possibility for him to evade the charges.
"Considering the gravity of the offenses charged against him, and the current stage of the proceedings, not to mention the magnitude of the amount involved, his motion must not be granted so as not to afford him the opportunity, however remote, to escape incarceration," the prosecution said.
Furthermore, the prosecution said allowing Revilla to leave his detention would give a negative impression to the other equally situated detainees and to the public.
"No less important, if this Honorable Court accedes to accused Revilla's request, it will grant him a special privilege that is not accorded to an ordinary prisoner and unduly create an impression to the public that accused Revilla, being a high-ranking public official, is a favoured detainee," the prosecution's opposition paper read.