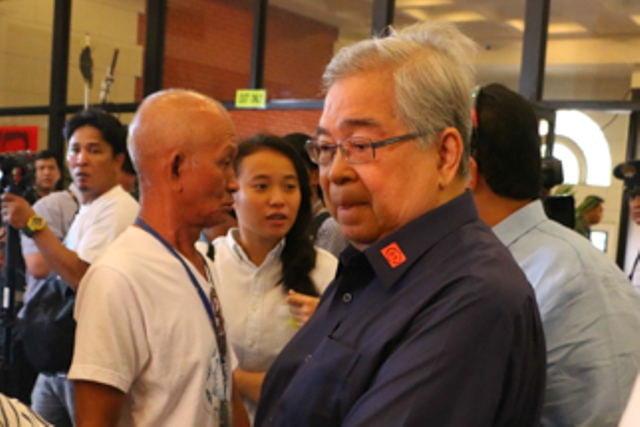 The ombudsman said former Presidential Commission on Good Government Chair Camilo Sabio failed to render or liquidate the cash advances within two months after the period prescribed by law and the Commission on Audit rules "to the damage and prejudice of the government." Philstar.com/Efigenio Toledo IV, file
Ex-PCGG chair Sabio faces rap anew
MANILA, Philippines — The Office of the Ombudsman has filed another criminal case against former Presidential Commission on Good Government chairman Camilo Sabio in connection with his alleged unliquidated cases advances during his term.
In a case information sheet filed before the anti-graft court Sandiganbayan on December 12, the ombudsman charged Sabio with failure to render accounts under Article 218 of the Revised Penal Code.
Based on the charge sheet, Syjuco during his term as PCGG chairman in 2008, received cash advances totaling P350,000 for supposed field and activity operating expenses in relation to the official functions of his office.
Syjuco allegedly received the cash advances in the form of two checks dated Dec. 15 and Dec. 23, 2008.
The ombudsman said Syjuco failed to render or liquidate the cash advances within two months after the period prescribed by law and the Commission on Audit rules "to the damage and prejudice of the government."
The ombudsman recommended to the Sandiganbayan to set Syjuco's bail at P6,000.
The charge sheet was prepared by graft investigation and prosecution officer Sylvia Severo-Paraiso and was approved by Ombudsman Conchita Carpio-Morales on Nov. 28, 2017.
Among the witnesses set to testify against Sabio are COA audit team leader Salvacion Jamoralin and former PCGG Finance and Administration Department officer-in-charge Marcial Flores.
Sabio is currently facing three counts of malversation of public funds before the Sandiganbayan Fifth Division over his alleged failure to liquidate litigation-related cash advances in 2008 and 2009 amounting P632,428.
He is also facing two counts of graft before the Sandigabayan Fourth Division over the supposed anomaly in the 2008 ownership row case between the Government Service Insurance System and the Manila Electric Company.
The ombudsman, which filed the cases in December 2016, said Sabio influenced his late younger brother, then Court of Appeals Associate Justice Jose SabioJr. to rule in favor of the GSIS in a case filed by the Lopez-owned Meralco.
In June of this year, the First Division of the Sandiganbayan convicted Sabio of graft in connection with the alleged anomalous car lease deals that the PCGG entered with the United Coconut Planters Bank in 2007 and 2009 amounting P12.127 million.
The First Division sentenced him to a minimum of 12 years to a maximum of 20 years of imprisonment but Sabio filed a petition for certiorari before the Supreme Court to seek the reversal of the decision. His petition remains pending.