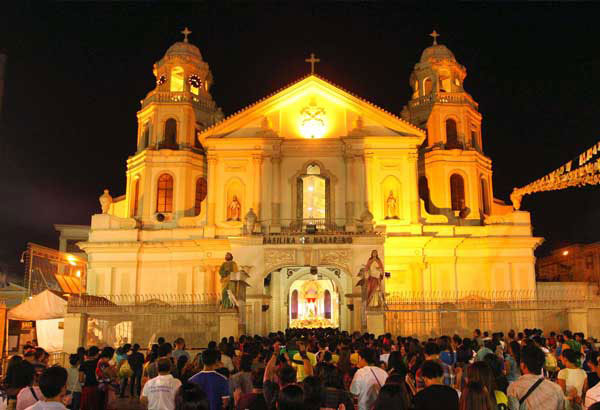 The traditional Simbang Gabi, also called Misa de Gallo, is observed from Dec. 16 to Dec. 24. It has been, for generations, a part of the Filipinos' way to prepare for the birth of the Savior, Jesus Christ. Ernie Peñaredondo/File
Catholics told to pray for country during Simbang Gabi
MANILA, Philippines — Filipino Catholics attending the nine-day Simbang Gabi or dawn masses that start today should offer their sacrifices not only for personal intentions but for the country as well.
"We are at a crossroads. There are so many issues, policies that are being thought of… We just hope that everything will be for the good of our country, and the people," Catholic Bishops' Conference of the Philippines-Public Affairs Committee (CBCP-PAC) executive secretary Fr. Jerome Secillano said yesterday.
The traditional Simbang Gabi, also called Misa de Gallo, is observed from Dec. 16 to Dec. 24. It has been, for generations, a part of the Filipinos' way to prepare for the birth of the Savior, Jesus Christ.
From urban areas to the most remote villages in the whole archipelago, church bells will begin ringing at four o'clock in the morning.
"We pray for peace, for unity, for reconciliation. That is my reminder to them, to hear mass, to pray not only for your personal (petitions). It would be better if you would also include the social aspects (in your prayers)," Secillano said.
The CBCP official, without naming those sowing division in today's society, said the faithful should pray for reconciliation.
"There are many warring factions in our society. Politicians are bickering. Church and state are at odds, especially with the way policies are being formulated and implemented. So we pray for reconciliation," he said.
"Killings are happening everywhere; political bickering, issues are being hurled at each other. So what we need right now is a semblance of peace. Let us try to work together. Let us help each other for the common good. Let us try to somehow go beyond our personal issues. Let us always look at what should be good for our society, what should be good for our country," he added.
Secillano also said that despite their daily problems and the country's current situation, the people should not lose hope, especially this Yuletide season because "in effect, the message of Advent is all about hope, that something better will happen." – Bebot Sison Jr.