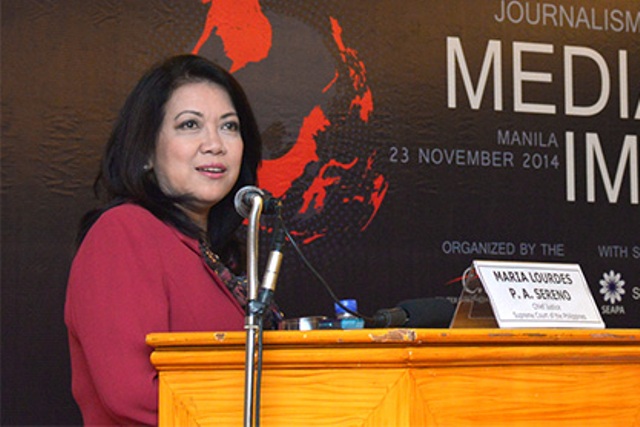 Facing employees and some justices of the Supreme Court, Chief Justice Maria Lourdes Sereno hailed the achievements of the SC in the past year. Sereno is currently facing an impeachment complaint filed by lawyer Larry Gadon. SC PIO
Beleaguered Chief Justice Sereno: SC had a good year
(philstar.com) - December 15, 2017 - 6:55am
MANILA, Philippines — Chief Justice Maria Lourdes Sereno, who faces an impeachment complaint at the House of Representatives, on Friday encouraged court employees to "spread the good year" of the Supreme Court.
During the SC's Christmas party, Sereno said the court had a "good year" as it rolled out judiciary reforms such as automated hearings, court decongestion and the move to have electronic courts nationwide.
"That is why it gives me great pleasure to announce that we will keep on creating incentives for the judiciary for this kind of performance, that you deserve everything that you are going to get this month and for the months to come because so much output has been produced," Sereno said.
In her remarks, the CJ reminded everyone of the Court's goal to set the gold standard for public service and recounted all theSC's successes in judicial reform since 2012; she encouraged the staff to continue to aspire to be better to reach that goal.(Photo and text: CPIO) pic.twitter.com/1gZFg1eif1

— Supreme Court PIO (@SCPh_PIO) December 15, 2017
Sereno is currently facing an impeachment complaint filed by Lorenzo Gadon, a lawyer who openly supports President Rodrigo Duterte and the Marcos family.
READ: Highlights from the Sereno impeachment hearings
Three sitting justices and a retired justice have appeared before the House of Representatives Committee on Justice, which now calls itself the impeachment committtee, to shed light on the allegations by Gadon.
The justices' testimonies seemed to confirm the rumored rifts among the magistrates of the high court. Associate Justices Teresita De Castro, Francis Jardeleza, Noel Tijam and former Justice Arturo Brion, in their respective testimonies, accused Sereno of bypassing the full court or en banc.
PHOTOS: SC Christmas Party. In attendance- Philja Chancellor Adolf S. Azcuna, AJ Estela M. Perlas-Bernabe (with Atty. Ric Bernabe), AJ Mariano C. Del Castillo. (photos: CPIO) pic.twitter.com/vvqH1Uc3Ox

— Supreme Court PIO (@SCPh_PIO) December 15, 2017
Sereno, speaking to the employees of the SC on Friday, emphasized that all the justices are "committed to keep on improving the conditions of the employees of the judiciary."
She also referred to Associate Justice Mariano Del Castillo, among the justices of the 15-member Supreme Court who attended the event, as being at the forefront of the judiciary's outreach programs.
Sereno closed her short message to court employees by saying that because of the SC's achievements, "we can face anyone with pride, with honor, with dignity."