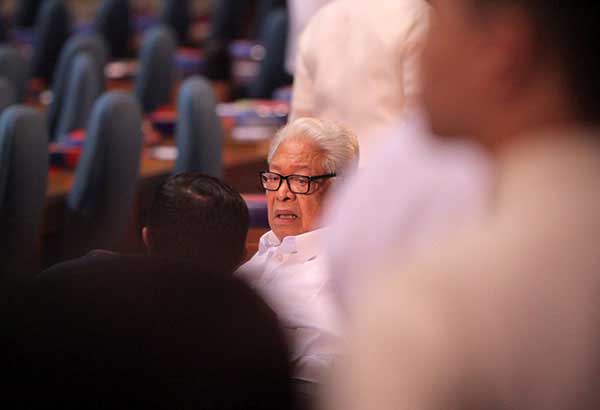 Albay Rep. Edcel Lagman. Philstar.com/AJ Bolando, File
'Extension has no factual, constitutional basis'
Jess Diaz
(The Philippine Star) - December 13, 2017 - 4:00pm
MANILA, Philippines — Amid an overwhelming number of votes that affirmed the one-year extension of martial law and suspension of the writ of habeas corpus in Mindanao, opposition Rep. Edcel Lagman of Albay decried what he described as the "cavalier assertion" by administration officials that there is a continuing rebellion in the south.
"An extension even for one day, much more for one full year, has no factual anchorage and constitutional basis," he said.
Lagman was among 23 House members who voted against prolonging martial law.
Another was Quezon City Rep. Jose Christopher Belmonte, who warned his colleagues that "we are falling into a pit we could never get out of" if they approved Duterte's extension request.
For his part, Buhay party-list group Rep. Lito Atienza said he supported Duterte's martial law declaration but he is opposed to its extension for the entire 2018.
He said the Constitution provides that such declaration should be good only for 60 days, unless extended by Congress upon the President's request.
"With a one-year extension, aren't we circumventing the clear mandate of the Constitution as we should respect it?" he said.
Atienza said the writers of the Constitution provided restrictions to prevent an "indefinite martial law" similar to that imposed by the late former president Ferdinand Marcos.
Senior Deputy Executive Secretary Menardo Guevarra responded by saying Congress approved in June the President's first martial law extension request of more than six months ending on Dec. 31, and that no one challenged it before the Supreme Court.
"The period of extension is in your hands, your honors," he told lawmakers.
Questionable propriety
Ifugao Rep. Teodroro Baguilat Jr. also raised questions on the propriety of the extension, saying, "Threats can be adequately met through the regional operations of our military and the (Philippine National Police)."
If there is a need for stronger action, then the President could have already called out the military to help the PNP in suppressing lawlessness, according to the lawmaker.
"Martial Law is a last resort, the most extreme response to the most severe security issue," Baguilat reminded his fellow officials.
He added that as prescribed by the Constitution, only actual rebellion and invasion – and as public safety requires it – are the recognized grounds for martial law.
"With the war in Marawi over and the killing of Maute group leaders, there is no more basis for extending martial law. We will be violating the Constitution that we have sworn to uphold if we extend it," Baguilat reiterated.