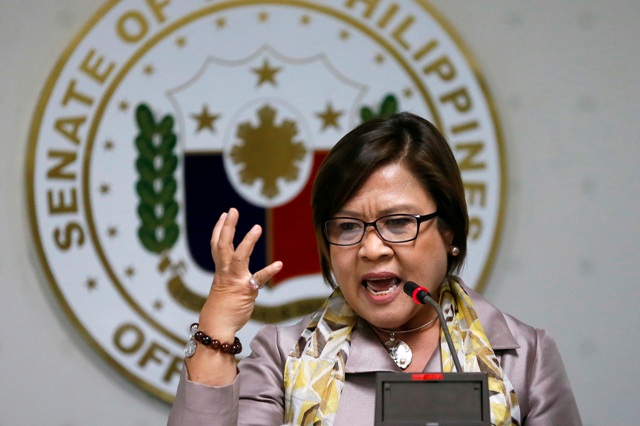 Senator Leila De Lima on Tuesday slammed President Rodrigo Duterte's move to extend martial law using the "red scare." In a statement, she said: "No one in government can be faulted more for the growth of the NPA in Mindanao than Duterte himself." AP/Bullit Marquez, File
De Lima: Duterte befriended NPA in Davao for decades
(philstar.com) - December 12, 2017 - 10:16am
MANILA, Philippines — Sen. Leila de Lima slammed President Rodrigo Duterte, calling him "two-timing" for using the "red scare" to extend martial law in Mindanao while earlier throwing his support to the communists.
De Lima pointed out that during his years as mayor of Davao City, Duterte "has, for decades, befriended, coddled, and gave aid and comfort to the NPA in the Davao region."
"On several occasions as Mayor of Davao City, he urged businessmen to just comply with the demands of the NPA to pay revolutionary taxes," De Lima added.
In his campaign speeches before the national elections, Duterte has repeatedly thrown his support to the New People's Army, the armed wing of the communists. In a November 2015 speech, Duterte even cheered the NPA. He quipped: "Mabuhay ang NPA!"
EXPLAINER: Can Duterte declare CPP-NPA terrorists?
De Lima, in his statement on Tuesday, hit Duterte for backpedaling on his earlier pronouncements: "Now he wants a Martial Law extension to defeat the armed movement he himself nurtured, aided, and comforted in the hills of Davao for decades. No one in government coddled the newly-declared 'terrorists' more than Duterte did."
De Lima added: "No one in government can be faulted more for the growth of the NPA in Mindanao than Duterte himself."
The chief executive, on December 5, declared the CPP-NPA as terrorist groups. Presidential spokesperson Harry Roque expounded: "Act of rebellion is a continuing crime so for as long as they don't lay down their grounds, they are committing a criminal act."
One of the grounds used by Duterte in his request to extend martial law for another year is the continuing armed conflict and recruitment of the CPP-NPA in Mindanao.
But De Lima warned: "[T]he enforcement of Martial Law for the purpose of ending the NPA rebellion cannot be left to the very person most responsible for emboldening the armed movement and enabling their expansion in Mindanao, especially in the hills surrounding Davao City."
"One who has supported the rebels (now 'terrorists') cannot be allowed to use their rebellion as an excuse for Martial Law and the imposition of more authoritarian restriction on civil liberties," De Lima stressed.
Although Marawi was declared liberated last October, clearing operations in the main battle area continue and officials have said threats remain in Mindanao.
The 1987 Constitution allows the declaration of martial law when public safety requires it in case of invasion or rebellion.
The Congress is set to hold a joint session on Duterte's request on Wednesday.