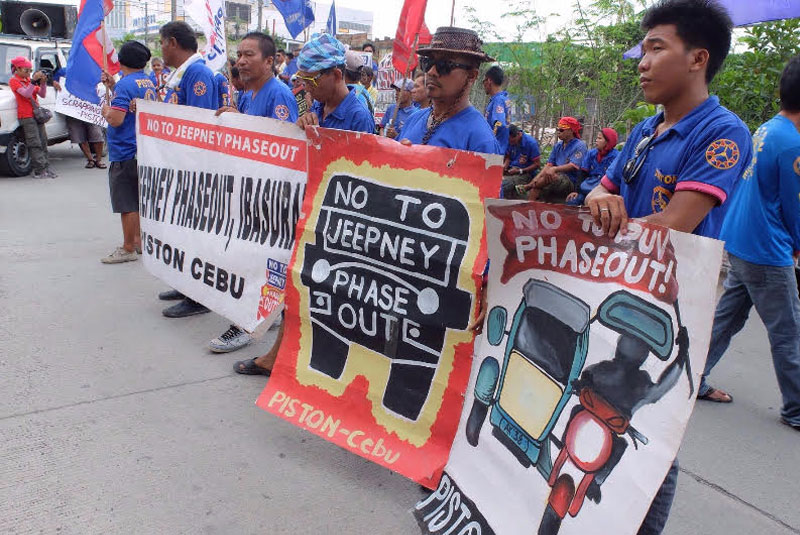 In his speech in Malacañan, Duterte singled out Piston and renewed his warning to the group that he will drag their jeepneys in front of them if they continue to oppose the PUV modernization plan. File photo
Duterte threatens transport groups: 'Prepare for truncheons'
(philstar.com) - December 12, 2017 - 9:57am
MANILA, Philippines — President Rodrigo Duterte on Tuesday threatened transport groups with military and police force should they continue to defy the government's planned public utility vehicle modernization program.
"Ngayon itong mga 'to, itong PISTON and... di raw sila magsunod, ganito raw. Sabi ko, 'sige, subukan natin. Because I'm preparing the Armed Forces and the police to buy rubber bullets, prepare for truncheons,'" the president said.
"I don't care if we go into a turmoil. That is what I like, I thrive best in a turmoil. Talagang guguyurin ko yang sasakyan ninyo. The law is the law is the law," he added.
Transport groups Stop and Go Coalition and Piston (Pinagkaisang Samahan ng Tsuper at Opereytor Nationwide) had staged several nationwide strikes in the past to protest the proposed PUV modernization program.
The strikes had stranded thousands of commuters in urban centers, forcing them to walk and hitch rides while some local governments were prompted to suspend classes in public and private schools.
For decades, the iconic post-war era jeepneys have provided cheap and regular transport for millions.
Citing pollution and safety concerns, the government, is planning to phase out the venerable open-air minibuses aged 15 years or older and replace them with a more environment-friendly version.
The government admits the plan will be hard to implement, with critics questioning the cost of the rehabilitation program, and many poor drivers and owners saying they can't afford to take on new loans to buy vehicles.
EXPLAINER: Why some transport groups oppose jeepney phaseout
"Look guys, we all know that we are being killed almost every day slowly. Kita mo naman fumes and you should see Manila at sunset," Duterte said.
"Those are fumes — carbon dioxide and all," he added.
Duterte, a self-styled socialist, earlier accused Piston and other transport groups of committing rebellion and for supposedly being legal fronts of the Communist Party of the Philippines.
Duterte had also said he would not give in to the demands of the drivers, even as Piston leaders threatened to hold strikes every month until he changes his mind on the matter.
He has been rejecting PISTON's request for dialogue.
READ: QC court orders PISTON leader's arrest over transport strike